Total There are 254,79 Million Pre-registered Prepaid Number
By : Ahmad Fadli Dan Aldo Bella Putra | Thursday, May 17 2018 - 17:00 IWST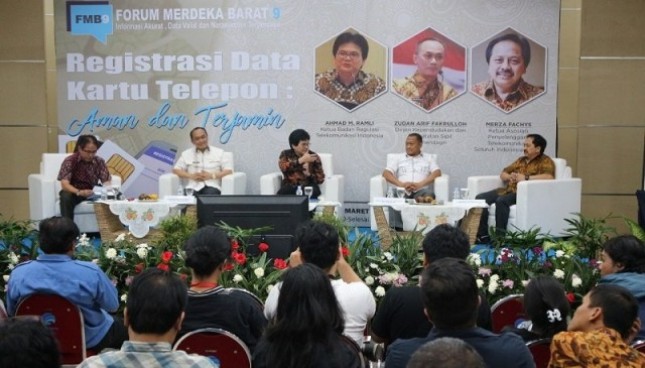 enderal Penyelenggaraan Pos dan Informatika Ahmad M. Ramli pada Forum Merdeka Barat 9 Registrasi Data Kartu Telepon:Aman dan Terjamin di Ruang Serba Guna Kementerian Kominfo, Jakarta, Rabu (14/3/2018).
INDUSTRY.co.id - Jakarta - Chairman of the Indonesian Telecommunications Regulatory Body (BRTI) Ahmad M Ramli through a press release on Wednesday (16/05/2018) said reconciliation is done by counting the number of hits in the Directorate General of Population and Civil Registration and operators. This figure is seen from the final number of numbers recorded on April 30, 2018.
According to him, the number 254,79 million or 254,792,159 precisely this shows a real number. The reason, this figure is compared with the total population of 262 million people and 143 million internet users.
"This figure is the final result approved by the Directorate General of Post and Informatics Operations, BRTI, DG Captive and operators after the process of matching and blocking numbers that do not re-register or are registered incorrectly or without rights," he said.
Meanwhile, Chairman of the Association of Indonesian Telecommunications Service Providers (ATSI) Merza Fachys said this figure is the real number of subscribers who contribute to operator revenue. He also mentioned with the registration provisions, the operator must set a new business pattern that is by encouraging the sale of physical vouchers refill marketed through outlets and outlet distributors.
"In the future, the operator's business pattern will further encourage the sale of refillable physical vouchers that can be marketed through outlets and outlets," Merza said.