Artha Graha Peduli Holds a Fasting Break with the Citarum Society
By : Dina Astria And Aldo Bella Putra | Monday, June 04 2018 - 16:00 IWST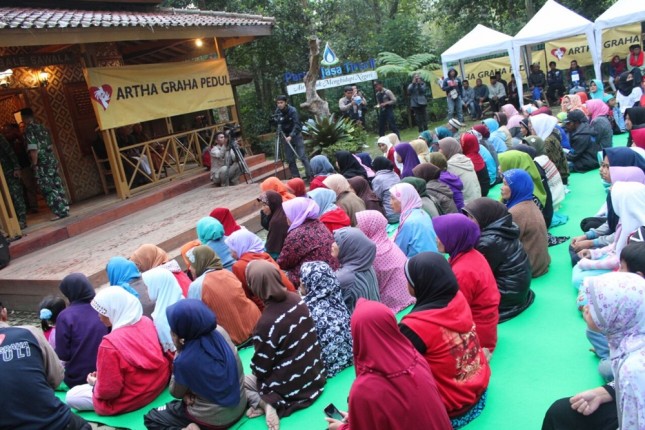 Acara buka bersama AG Peduli dengan masyarakat Citarum
INDUSTRY.co.id - Citarum - Coinciding with the Holy Month Ramadhan 1439 H., The community took the initiative to make a simple event, which is a joint opening event with the spirit to strengthen the bonds.
At the event Tarumajaya community invited the work team of Artha Graha Peduli to participate in "Sauyungan" (together with rukun) together to build the bond of brotherhood between people and AGP.
The presence of Artha Graha Peduli in early 2018 is encouraged by the fragrant citarum movement as one of the government programs through Presidential Decree Number 15 Year 2018 on Acceleration of Pollution Control and Damage of Citarum River Basin.
Artha Graha Peduli is involved in the rehabilitation of Citarum River in the upper stream of Situ Cisanti in Tarumajaya Village, Kertasari District, and Bandung Regency. This is slowly beginning to feel a positive impact in the local community in particular.
Together with Kodam III / Siliwangi, Artha Graha Peduli focuses on working in Hulu Citarum to reforest the deforested area. The positive interaction slowly began to build between the Tarumajaya Community and Artha Graha Peduli.
Socialization continues to be made about its importance for sustainable forests into one of the efforts to provide education to the community.
Daily Executor Artha Graha Care Citarum Haryono Budi Utomo revealed "Slowly people have started to change their previous lifestyle. But, this task is not finished yet,
"In line with AGP's First Pillar of Environmental Preservation, AGP is committed to directly engaging the government in handling the problems that occur in the Citarum River, especially in the upper reaches.
"With this activity, it is hoped that the great aspiration for Citarum can be realized together because the community of Hulu Citarum is the Sole Forest Area and Cisanti River (Hulu Sungai Citarum)", said Haryono.