Frisian Flag Helps to Pride the Family's Strong Family Role
By : Dina Astria And Aldo Bella Putra | Monday, June 04 2018 - 17:30 IWST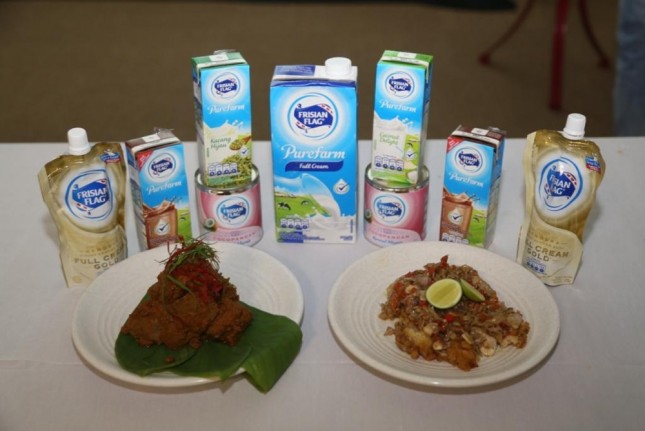 Produk Frisian Flag Indonesia
INDUSTRY.co.id - Jakarta - Welcoming the Birthday of Pancasila and World Milk Day that fall on June 1, 2018, Frisian Flag Indonesia celebrates these two important moments by spreading the message of diversity of good and keeping unity starting from the smallest community - the family.
In the midst of the turmoil of the nation that destabilizes Indonesia's unity, Pancasila becomes a cooling oasis that recalls our national values. "We want to take advantage of the momentum of Pancasila's Birthday this year to coincide with the holy month of Ramadan to remind ourselves of the importance of pride - loving and respecting the diversity of goodness that exists in Indonesia We must cultivate this pride of diversity from an early age starting from the first community we Frisian Flag believes that the foundation of building a strong nation lies in a strong family, which bequeathed the messages of kindness including loving and appreciating the diversity of the good of the nation, "welcomed Frisian Flag Indonesia Corporate Affairs Director Andrew F. Saputro.
Present in the middle of the talks ahead of the breakfast this afternoon is Feka Child Psychologist Angge Pramita M. Psi who raised the importance of the role of parents to instill national pride in the family environment, "Parents have an important role as a role model for their children. They grow and respond to the differences around them based on what they see at home. Parents, Fathers and Mothers, have a very important role in building one's character, a generation. "In addition to building the foundation of character at home, it is important for parents to introduce diversity that exists outside the family environment," We live in a very heterogeneous society. The Indonesian nation consists of various tribes and religions, having different values ​​from one another. Children should be introduced to these differences and instill mutual respect and respect, love the differences. We should be proud of the diversity we have and keep the pride together, "Feka added.
Cultivate and maintain pride in the diversity of the good of the nation can start at home, "Establish communication with children and discuss about diversity can be done in various ways. Let the right time to discuss digging positive emotions with family and cultivate the values ​​of goodness. We build competence of children to be sensitive in respecting and loving differences and helping them socialize with the surroundings as their provisions in society later."
Building a strong Indonesian family should also be balanced by preparing a healthy family. Feka also agrees with this: "In addition to instilling good values, parents also play a role to inculcate good habits such as eating nutritious foods including drinking milk and moving actively. Incanting good habits at home and then done together the family make good habits no longer a duty, but a necessity, because of its many benefits, and fun to do every day as it does with other family members."
June 1, which is celebrated as World Dairy Day contains the message of the importance of balanced nutrition patterns and drink milk and move actively every day. "Since 96 years ago, Frisian Flag has been present in Indonesia and has helped to build a strong healthy Indonesian family through nutritious dairy products for all ages at every stage of life, to coincide with World Milk Day as well as Milk Day we invite people to keep and improve the habit drink milk every day as part of good and healthy family habits. Come on we drink milk and move actively into a powerful generation that is tough from the threat of division, "said Andrew.
On this afternoon Frisian Flag also share the goodness of other dairy and invite Runner-up MasterChef Indonesia Season 4 Deny Gumilang to share cooking tips in Ramadan using the diversity of goodness of milk that can be processed into a healthy menu for meal and breaking the family fast.
Let us build a strong, tough generation of divisions by waking up pride in the diversity of goodness and drinking milk every day, starting with the family.