This Explanation of Jasa Marga on Incident Disorders Kamtibmas Stone Throwing in Japek Area
By : Hariyanto And Aldo Bella Putra | Sunday, June 10 2018 - 14:30 IWST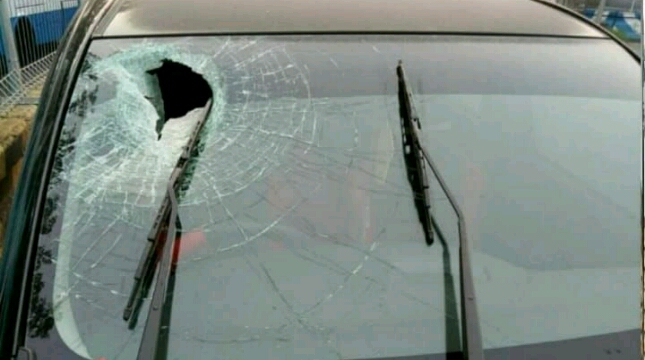 Mobil korban pelemparan batu (ist)
INDUSTRY.co.id - Jakarta - PT Jasa Marga (Persero) Tbk. regretted the incident disruption kamtibmas stone throwing toward the car users toll that occurred in the Jakarta-Cikampek toll road (Japek) Km 6 Cikampek direction.
The incident occurred on Tuesday, 5 June 2018 at 04.13 WIB. On the incident, there was no casualty, but the victim's car broke in the windshield.
Intermittent few minutes after the incident, precisely at 04:18 pm stone throwing action again repeated in the same location. A piece of stone is thrown at the windshield of a user of a highway. This second incident broke the windshield and hit the driver.
On the report, Security and Order Officers (Kamtib) Jasa Marga Japek Branch immediately reviewed the location of stone throwing at 04:25 pm and immediately did help, the victim immediately rushed to Bekasi General Hospital.
On the way to the hospital, the victim is still breathing and doing help. Arriving at the hospital, the victim was declared dead in the hospital.
Along with the efforts of the officers to help the victims, Security and Order (Kamtib) officer Jasa Marga Japek Branch arrested one person suspected perpetrators whose motion was suspicious.
The perpetrators were arrested in the vicinity of the Crossing People Cross (JPO). Furthermore, the alleged perpetrators were handed over by Kamtib officers to the PJR Office in Jatibening. After that, the incident was handled by Polsek Pondok Gede.
On the incident, Jasa Marga deplored the stone throwing by the irresponsible person and expressed her deep sorrow for the incident that happened to the victim.
To prevent similar incidents from recurring in the future, Jasa Marga seeks to:
1. Directing CCTV cameras to locations prone to kamtibmas interruption
2. Increasing the lighting points in locations prone to kamtibmas disruption
3. Jasa Marga rechecked the presence of fences in the JPO and made repairs if damage was found