Indosat Ooredoo Records 73% Increasing in Data Traffic during Idul Fitri 1439H
By : Dina Astria And Aldo Bella Putra | Thursday, June 21 2018 - 20:00 IWST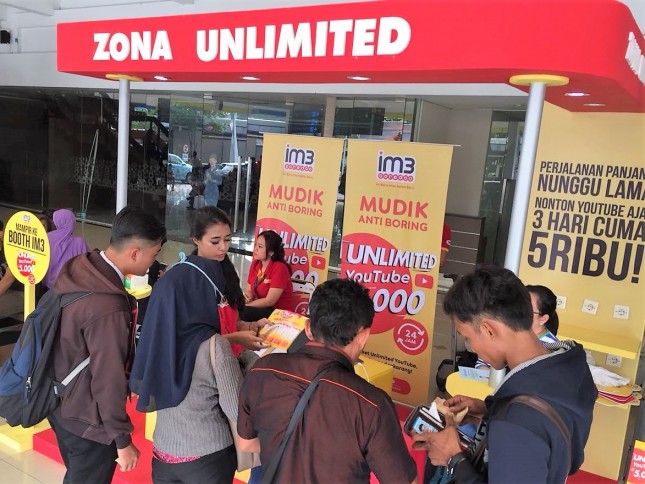 Zona mudik Indosat Ooredoo.
INDUSTRY.co.id - Jakarta - Indosat Ooredoo, the leading digital telecommunication company in Indonesia, successfully accompanies and meets the needs of its customers' telecommunication services during homecoming to their hometown, celebration of Idul Fitri 1439H, and Lebaran 2018 holidays.
During the long holiday, in the midst of increased traffic, Indosat Ooredoo able to maintain the quality of its network for the convenience of customers enjoy traveling back and forth with relatives. Indosat Ooredoo has anticipated increased traffic by increasing network capacity, conducting intensive network quality monitoring through Indosat Ooredoo Network Operation Center (INOC), monitoring service quality through Indosat Ooredoo Service Operation Center (ISOC), and activating a 24-hour Lebaran Command Center.
Group Head of Network Operations Indosat Ooredoo who is also the Head of Festive Lebaran 2018, Umar Hadi, said "The performance of Indosat Ooredoo network is successful in serving the telecommunications needs of 96.2 million of our customers during the homecoming and Lebaran holiday this year is a form of joint efforts through increased network capacity, monitoring network quality through INOC, monitoring service quality through ISOC, and activating Lebaran Command Center. We do this as a commitment to provide convenience for customers to enjoy traveling back and forth, stay in touch with relatives, and enjoy this Lebaran holiday. "
Indosat Ooredoo recorded the highest traffic increase for Data usage is at peak of homecoming flow or coinciding with H-3 Lebaran of 5,338.47 Terabytes / day, or up 49.70% compared to regular data traffic on weekdays. Meanwhile, the use of Data on Idul Fitri 1439H for 4.867.58 Terabytes / day or an increase of 73.03% compared to last year. This is in line with the increasing trend of social media usage, both as entertainment while accompanying trips going home and to communicate with relatives.
In contrast to Data service, voice and SMS service traffic tends to decrease during Lebaran 2018. When compared to regular daily traffic, Voice traffic on Lebaran day decreased to about 153.91 million minutes, or down about 17.37% and SMS traffic in day Lebaran decreased to about 137.18 Million SMS, or down 15.11%. The success of SMS delivery among Indosat Ooredoo subscribers was more than 94.83% and 95.32% for the success rate of SMS delivery to inter-operator which meant there was no significant problem in sending the internal SMS of Indosat Ooredoo network or between operators despite the density of delivery lane.
Indosat Ooredoo also ensures good service through network monitoring controlled from Indosat Ooredoo Network Operation Center (i-NOC) as Command Center. The Command Center operates several days before and after Idul Fitri to proactively identify through the Performance Monitoring team before an interruption affects the customer, and reactively through the Customer Service team so that any constraints can be resolved as soon as possible.
Monitoring is also conducted by Indosat Ooredoo Service Operation Center (ISOC) facility that monitors the quality of application services commonly used by customers such as Youtube, Instagram, Whatsapp, Facebook, Spotify, Iflix, and so forth. Through this facility, Indosat Ooredoo ensures that not only the network stability but also the quality of each application is in good condition to support Lebaran homecoming activities and Lebaran.