Illegal Foreign Workers in Papua Receive Salary Rp40 Million / Month
By : Herry Barus And Aldo Bella Putra | Monday, June 25 2018 - 17:00 IWST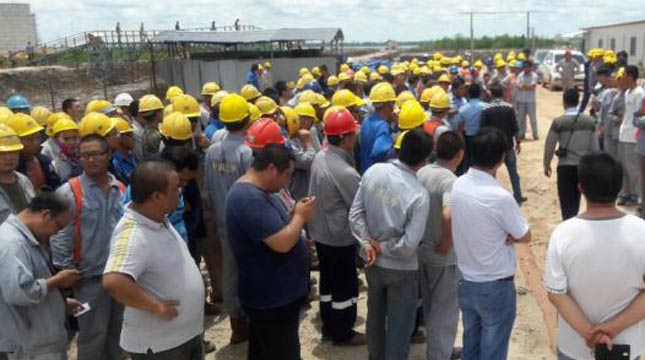 Tenaga Kerja Asing (ilustrasi)
INDUSTRY.co.id - Timika - Immigration Office Class II Tembagapura, Timika, Papua says dozens of illegal foreign workers working in the people's gold mine in Nabire Regency receive fantastic salaries of up to Rp40 million per month.
"From our investigation, they are all paid an average of 7,000-8,000 Yuan (Chinese currency) or about Rp14 million-Rp15 million per month and some even up to Rp40 million," said the Head of the Immigration Office of Tembagapura, Timika, Jesaja Samuel Enock in Timika, Monday (6/25/2018)
Samuel Enock immediately led a self-control operation of foreigners at four gold mining sites in Nabire County on June 10.
Together with four of his staff, Samuel went to a community gold mine site in Kampung Bifasik, Lagari Village and along the Musaigo River, Makime District, Nabire District.
The four gold mining sites were exploited by a company called Pacific Maning Jaya based in Nabire.
Now the owner of the company initials BE become the main target of the Immigration Tembagapura, Timika to be submitted to the prison chair because of hiring dozens of foreign workers without official documents alias violate the residence permit.
"Of the 21 foreign nationals we have examined at the Tembagapura Immigration Office in Timika, some are using Visa-free travel visits, some are using Visa visits, on average they are located in Jakarta. This is a violation because their existence is incompatible with the place stay, "explained Samuel.
According to him, Pacific Mining Jaya Company in Nabire never reported to the Tembagapura Immigration Office related to the presence of tens of foreign workers from China, Japan and South Korea.
"There is a strong indication that their presence is there to work because it is a mine site, and foreigners are coming there not just for a walk, but they are doing activities at the mine site," explained Samuel.
A total of 21 foreign workers who already exist in Timika and partly as many as 16 foreigners who are in Nabire, will all be filed to court with allegations of immigration crime as regulated in Article 122 letter a of Law Number 6 Year 2011, where the threat of punishment namely for five years in prison and a fine of Rp100 million.
"Later all will undergo criminal proceedings, none of which we are deported. Of the records of their Passports, there have been repeatedly in and out of Indonesia, some have worked in Sulawesi, some have worked in North Maluku We see a deliberate on the parties - certain parties to bring foreigners to these places, "Samuel said.
From the initial description of the foreign workers, they have been working at the gold mining site of the people in Nabire District for a period ranging from three months to six months.
The work they do at the Nabire gold mine site is diverse ranging from dum truck drivers, excavator operators, gold purification equipment operators, some even work as cooks.
"They all do the work that local people can actually do, which means they are not experts who are really needed by the company where they work. Why do not want to hire local workers, but have to be imported from abroad," Samuel asked at Antara.
More iris again, as Samuel, local community that nota bene is the owner of ulayat rights over the gold mining location of the people in Nabire is not allowed to see the production process let alone know the results of gold production processed in the location of their own land.
"All of their jobs are taking over, and local people are only able to take fuel in Nabire, the income people receive so much more than the foreigners who work at the mine site," Samuel said.
The presence of officers at the Tembagapura Immigration Office, Timika at the gold mining site of the people in Nabire some time ago received full support from the local community.
"The community strongly supports our presence to enforce the law against foreigners working in the mine sites as well as to protect the rights of indigenous peoples who should get a fair share of the company," said Samuel.