BMW Indonesia Presents Future of Mobility BMW i3 Complete All-new Ranks BMW 5 Series
By : Hariyanto And Aldi Firhand. A | Friday, August 11 2017 - 14:40 IWST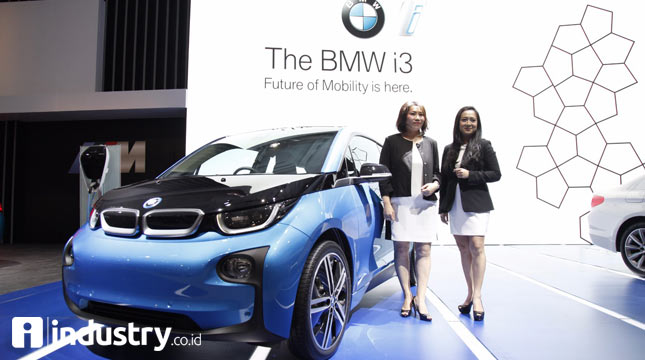 Karen Lim, President Director of BMW Group Indonesia and Jodie Otania, Vice President of Corporate Communications of BMW Group Indonesia taking pictures with BMW i3.
INDUSTRY.co.id - Jakarta - BMW Indonesia confirms its position as a leader in technology and mobility through the presence of future mobility symbol, BMW i3, at Gaikindo Indonesia International Auto Show (GIIAS) 2017.
The BMW i3 is an electric-powered vehicle and underscores BMW's long-term vision of delivering vehicle and visionary mobility services and setting new standards in the premium mobility industry. The presence of BMW i3 is in line with this year's GIIAS theme, "Rise of the Future Mobility".
"The success of the BMW i8, launched in GIIAS last year, shows BMW Indonesia's position in terms of innovation and technology in the future, in line with what BMW has done globally." The various activities that have been done have received a very encouraging market response to the BMW sub-brand This, "said Karen Lim, President Director of BMW Group Indonesia through an official statement received INDUSTRY.co.id, Friday (08/11/2017).
Therefore, he continued, BMW Indonesia presents BMW i3 to further demonstrate the importance of electric mobility solutions for Indonesia. "This year, BMW Group Indonesia once again showcased its leadership in the presence of a variant-friendly vehicle variant that is in line with the vision of the Indonesian automotive industry and of course the theme of GIIAS 2017 itself, namely 'Rise of the Future Mobility'," she said.
Karen added that BMW aims not only to introduce the latest innovations, but also to consistently educate the public and contribute to the development of the Indonesian automotive industry segment through the presence of BMW i3.
BMW i3 inaugural presence in Indonesia.
BMW i3 is the first production model of BMW Group that fully operates using electric power. The BMW i3 comes with visionary design, revolutionary vehicle architecture, distinctive BMW driving pleasure, innovative connectivity, and future-oriented premium character. This urban vehicle is the result of research and in-depth development of BMW i project.
"The BMW i3 has the same concept as the BMW i8, which not only uses electric machines - every process and material used in production is oriented to the concept of sustainability and the future.This process is done without losing the essential essence of every BMW vehicle, that is Sporting nuance and premium quality, "added Karen.
According to karen, BMW i3 is present in GIIAS 2017 brings the capacity of a more capable electric battery of 94ah and equipped with a compact engine that can be used as a mileage enhancer (REx).
"The combination of electric motors and REx can carry this vehicle as far as 330km, the reason for the selection to show this variant because of its ability to remain functional on the limited infrastructure conditions," said Karen Lim.
BMW brings together the full range of all-new BMW 5 Series. All-new BMW 520d Luxury Line locally assembled in Indonesia showcase BMW's expertise in delivering performance and efficiency: Sheer Driving Pleasure.
"This latest variant addresses the needs of the Indonesian people for diesel-engined vehicles of quality, this variant complements the Business Athlete series which is the leading business sedan in Indonesia." She said.
Equipped with efficient diesel technology, the all-new BMW 520D Luxury Line complements the new BMW series launched in July 2017. The presence of this diesel variant provides more choice for loyal BMW consumers.
All-new BMW 520d Luxury Line uses 2 litre diesel engine BMW TwinPower Turbo 4-cylinder. This engine sprayed maximum power of 190dk and maximum torque of 400Nm. This vehicle drove from 0 to 100 km / h in 7.5 seconds and reached a maximum speed of 235 km / hour.
All-new BMW 520d Luxury Line also features BMW Display Key, the latest iDrive 6.0 system, and elegant interior balancing nuanced "Luxury".
"Beyond these two outstanding variants - the BMW i3 and the all-new BMW 5 Series, the BMW Pavilion at GIIAS 2017 presents the strongest series of BMW products.We invite every visitor to try out the products and technologies that make BMW the market leader in the field Mobility technology, "concludes Karen.