This is the Vice Governor's Agenda of Sandiaga Uno During Kunker Boston and New York
By : Herry Barus And Aldo Bella Putra | Tuesday, June 26 2018 - 18:00 IWST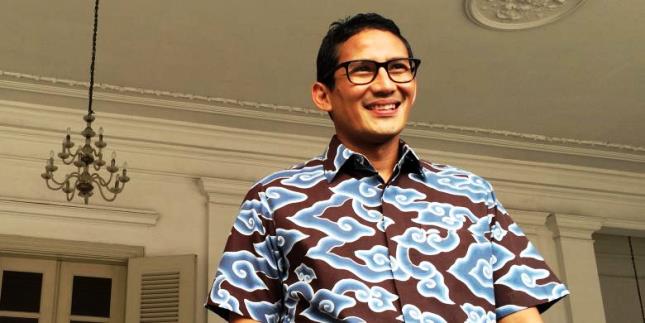 Sandiaga Uno Wagub DKI (Foto Dok Industry.co.id)
INDUSTRY.co.id - Jakarta - Jakarta vice Governor Sandiaga Salahuddin Uno paid a working visit to Boston and New York from 24 - 30 June 2018.
Sandiaga complied with the invitation of Professor Carlo Ratti, Director of Massachusetts Institute of Technology (MIT) Senseable City Lab, Laura Jay, Deputy Regional Director for North America and Head, New York Office C40 Climate Change Leadership Group and Ml Michael Berkowitz, President 100 Resilient Cities- Rockefeller Foundation.
Sandiaga is scheduled to have meetings with related institutions as well as meetings with Mr. James Reginal Colimon, Manager of International Partnership, Global Affairs, Major s Office of Economic Development, Boston and Dominick Aswini and Ms. Marisa Lago, New York City of City Planning Department.
Then on June 25, 2018 held a meeting with MIT City Senseable City Lab to obtain concrete information and images of Smart City technology developments that correlate with the prevention of the impacts of Smart City's concept advancement.
Senseable City Lab MIT has a team from science discipline from architects, designers, engineering, psychology, biology, and social, who has researched various urban problems such as Summer Day in Amtersdam, Clean Air Nairobi in Nairobi and Friendly City in Singapore.
Next to meet with Prof Lynn from Global Resilient Center (GRC), Northeastern University, this opportunity will be utilized to convey the solution of big city problem in the field of public transportation.
Especially in the development of traffic information technology (Intelligent Traffic System) in DKI Jakarta in the future in an effort to reduce the long queue of vehicles at traffic lights.
As an additional event in Boston, Sandiaga met with Michael Reginald Colimon, Manager of International Partnership, Global Affairs, Major s Office of Economic Development.
The agenda of the meeting discusses the experience of the Jakarta Provincial Government in establishing cooperation relationships abroad through the participation of Jakarta as a member of international organizations (multilateral cooperation) and cooperation sister city (bilateral cooperation) and exploring the areas of cooperation that can share within the framework of sister city.
Then in New York, there will be a meeting between the Consul General of the Republic of Indonesia New York Abdul Kadir Jaelani to express his gratitude and appreciation to the Consulate General of New York who has facilitated curation training on increasing the products and market opportunities in the US for SME / SME Jakarta by Curator Jennifer Isaacton on 2017 and 2018 and the participation of SME / SME DKI Uyang has been selected in "New York Now Exhibition 2017".
In the coming year, Jakarta Capital City hopes curation training and participation in "New York Now" can be continued and improved in order to support the OK OCE program.
Jakarta as an active selected city in the C40 cooperation program scheme either through the participation of Jakarta in the international forum of C40 as well as the technical assistance of C40 experts related to the environment, on 28 June 2018.
Vice Governor plans to meet with Laura Jay, Deputy Regional Director for North America and Head, of the New York Office of Climate Change Leadership Group, to discuss the development of cooperation areas that have been implemented between DKI Jakarta and C40 since 2009.
Among others are carbon finance capacity building, Retrofit Balaikota Building, carbon disclosure project report, greenhouse gas reduction workshop, and Jakarta DKI support plan to "2020 Deadline Program".
In addition to meeting with C40 Climate Leadership Group, on June 29, 2018, Sandiaga will be accepted by Michael Berkowitz, Executive Director to 100 RC, with the agenda of discussing the implementation of cooperation program between DKI Jakarta-100 RC.
Like the Jakarta Resilient City program, a follow-up meeting between the Governor of Jakarta and the Executive Director to 100 RC at the "Global Forum of Milken Institute" in Los Angeles in April 2018 on cooperation plans for water and sanitation, urban renewal / affordable housing, connectivity and mobility accompanied by air quality impact.
As well as strengthening cooperation between Jakarta and surrounding cities in addressing the problems of metropolitan cities.
While in New York, Vice Governor of DKI Jakarta is meeting with New York City of City Planning Department with Dominick Aswini and Marisa Lago with a focus on the subject of the success of Hudson Yard Development, Transformation of Industrial Area to Affordable Housing.
In addition to official meetings with government agencies and international organizations, Vice Governor will also conduct field trips to New York Smart City, Dumbo, and High Line which is Green Open Space (RTH)