Starting Rp 900 thousand, Jabra Presents Innovation Headphones Lightweight Anti-Air and Dust
By : Dina Astria And Aldo Bella Putra | Sunday, July 01 2018 - 23:00 IWST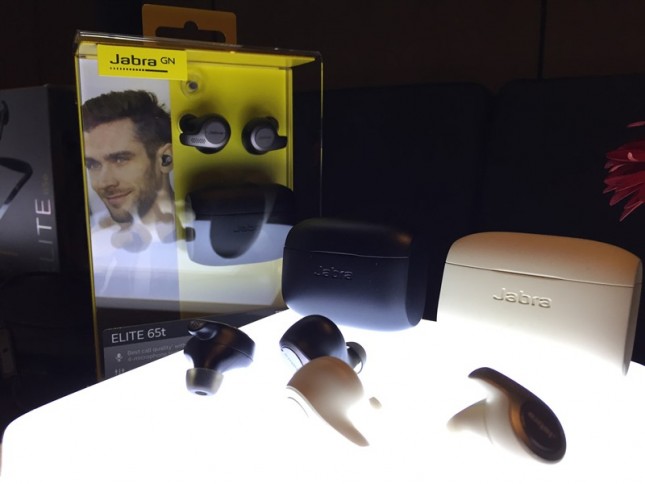 Headphone Jabra Elite Franchise (Dina Astria/Industry.co.id)
INDUSTRY.co.id - Jakarta - After a long time in the Indonesian technology market, Jabra, which is part of the GN Group, with the best ability to meet audio needs, both in professional and consumer markets, is now expanding its presence by introducing Jabra Elite Franchise in Indonesia; a series of headphone products that combine the best sound and music quality: Elite 65t, Elite Active 65t, Elite 45e, Elite 25e, and Elite 65e. With the experience and development of product innovation for 150 years, Jabra proudly invites its users to become more productive individuals such as Jabra tagline, Hear More, Do More, and Be More.
Jabra's research shows that daily use of headphones focuses more on telephone calls (58% of users per day), listening to music (53% of users per day), and voice instruction (35% of users per day). "Elite Franchise is designed to meet the needs of users who not only to get outstanding music quality, but also clear voice quality. Then, either when making a phone call or using voice instructions such as Siri and Google Now, "said Ben Samman as ASEAN Managing Director of Jabra.
"With Elite Franchise, Jabra sets a new industry on headphones that can deliver high quality sound and music in Indonesia. As well as supporting the users to become more productive individuals, hear more, do more and be more "he continued. The launch in Indonesia is a continuation of the great success Jabra earned earlier this year in Las Vegas, USA at CES.
In addition to the users can experience the best sound and music experience provided by Elite Series products, users can also choose the product that best suits their style, whether headphone-wireless, or headphones with lightweight neckband variants. In addition, each product of the new Elite Series is equipped with a microphone with a special configuration so that the voice of the user will always sound clear when receiving a call, both when speaking inside or outside the room. Users also do not have to worry about distractions such as dust or water entry, because the series of Elite Series comes with a two year warranty against dust and water damage.
These wireless earbuds are officially distributed through PT Axindo Infotama, the sole distributor for Jabra's commercial products in Indonesia. "With the presence of Jabra Elite Franchise products, headphone users in Indonesia no longer need to choose between headphones with good quality music or headphones with good sound quality because users can now have two benefits on their chosen Jabra Elite Franchise product," explained Yuyun Muljadi, Product & Marketing Manager of PT Axindo Infotama.
In addition to being a leader in delivering quality voice and music experience, every product of the Elite Series has its own advantages:
Elite 65t: Created to provide the best wireless sound and music experience. Elite 65t is a third generation wireless ear buds intended for those who want to get the best sound and music experience in the absence of cable. Elite 65t is also accompanied by a stable wireless connection and clear quality when making phone calls. Elite 65t provides convenience with key access to enable voice instructions like Siri® and Google Now ™, and has a battery life of up to 15 hours with charging case.
Elite Active 65t is created for active users who want a wireless voice and music experience while exercising. Jabra Elite Active 65t is a great choice for those who want the features of Elite 65t and use it while exercising. Grips on these ear buds have also been enhanced with a special coating, coupled with an accelerometer for the tracker feature, and sweat, water, and dustproof IP56 certification. Elite Active 65t can last for 5 hours in a single charge and additional battery power in the presence of charging case.
Elite 45e: Created for the best sound and music experience. Elite 45e is intended for users who want the best combination of sound and music experience on the headphones with a fit design. Headphones with neckband design have a lightweight material and a special microphone that provides the clearest sound quality among other wireless stereo headphones.
Elite 25e: Created for phone calls and listening to music all day long. Jabra Elite 25e is a headphone with the best battery in its class. You can receive phone calls and listen to music all day long, wherever you are. With an unparalleled battery life of up to 18 hours, the Elite 25e keeps you connected. With the development of neckband design, Jabra Elite 25e now provides more comfort for everyday use. By improving the quality of Eargels, you will also get better sound when making phone calls and listening to music.
Elite 65e: Created for a superior call quality experience. Jabra Elite 65e delivers 3-microphone technology, blocks noisy sounds - ensures your voice is heard clearly when making phone calls. Elite 65e uses Active Noise Cancellation technology - able to make a busy background noise to be quiet as in the library. With an oval EarGelsTM that fits in the ear, the Jabra Elite 65e can eliminate unwanted sounds like noisy traffic.
Customers in Indonesia can immediately purchase the latest Elite Series product range both online and offline, specifically for the Elite 65e which will be coming soon this year. The latest model of the Elite Series will be available early July in two online markets in Indonesia, namely Elite 45e in JD.id and Elite Active 65t specifically in Tokopedia. With prices ranging from Rp949.000,00 to Rp2,590,000.00, not only available in the online market, Jabra Elite Series can also be found in stores such asUbanban, Urban Republic, iBox, and Soundwave