ESDM Command Post End Task Period, This EMR Sector Report During Idulfitri 1439 H
By : Hariyanto And Aldo Bella Putra | Monday, July 02 2018 - 01:30 IWST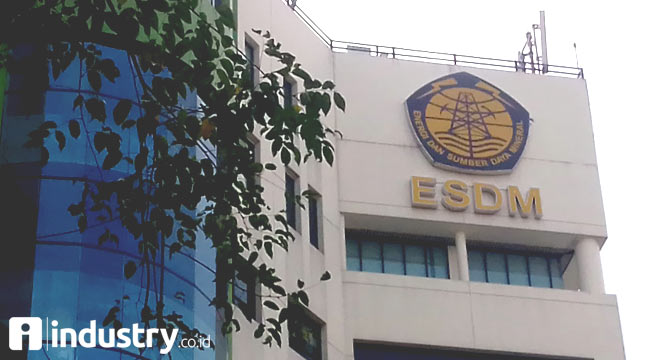 Kementrian ESDM (Hariyanto/ INDUSTRY.co.id)
INDUSTRY.co.id - Jakarta - ESDM National Team Post consisting of BPH Oil and Gas, Geological Agency of KESDM, Directorate General of Electricity KESDM, Directorate General of Oil and Gas KESDM, PT. Pertamina (Perdero), PT. AKR Corporindo, PT. PGN (Persero), PT. Pertagas Niaga, and PT. PLN (Persero) reported the results of activities of ESDM National Command Post during the 2018 Idul Fitri period starting on May 31, 2018 up to June 28, 2018 or H + 13 Idul Fitri.
In the service of Petroleum Fuel (BBM), the ESDM National Post Team reported that during Idul Fitri period yesterday the stock of BBM was in safe condition. There was an increase in the distribution of petrol / gasoline fuel by 12% of the normal distribution rate.
"Premium gains were 23 percent, Pertalite gained 6 percent, and then Pertamax was a 13 percent increase." Bright Member of BPH Oil and Gas Committee Muhammad Ibn Dawn at a press conference Implementation of ESDM National Coordinating Post Eid Day in 2018 in Jakarta, Thursday (06/28/2018) ago.
Meanwhile, for gasoline / diesel fuel there is a decrease of distribution by 8% from normal distribution average. With details of Solar / Akrasol down 8%, Dexlite down 6% and Pertamina Dex down 1%.
"So if Gasoline rises its Solar down, this is common in every Hari Raya because it's production activity in the industry down," Ibnu added.
Meanwhile, for Avtur fuel, the ESDM National Post Team reported an increase in Avtur distribution of 1.26% occurring on H-7 Eid by 16 thousand KL or increased by 7.9%. This increase occurred in the main airports, namely Soekarno Hatta in Banten, Ngurah Rai in Bali, Juanda in Surabaya and Adi Sucipto in Yogyakarta.
In order to improve the distribution of BBM services to the community on the backflow, ESDM National Command also provides additional supporting facilities in the inter-Java and Sumatera highways consisting of Kiosk Packaging with a total of 72 points, Motor Package of 283 units, Mobile Dispenser 32 units, SPBU of 117 points, and Serambi Pertamax with a total of 13 points.
On the same occasion, Ibnu also explained that the stock of LPG during Idul Fitri period yesterday was recorded in a safe condition. There is an increase in the distribution of LPG for households by 4.4% from normal distribution average with total realization of 563,580 MT where the peak realization of LPG for households occurs in H-2 of 27,074 MT.
Gas distribution conditions for Jargas and BBG PGN are in well-served condition Which gas distribution for Jargas PGN (Jakarta, Tangerang, Bogor, Cirebon, Palembang, Lampung, Surabaya, Blora, Semarang, Tarakan, Sorong, and Batam) reportedly decreased by 5% compared to the condition of gas distribution of jargas in the previous month.
For the electricity sector, generally the National Electricity Condition is reported to be in safe and normal condition. The highest national peak load occurred on June 5, 2018 of 35,086 MW and the lowest national peak load occurred on June 15, 2018 of 24. 243 MW.
"For the condition of the electricity supply is alhamdulilah safe, there is no unpredictable situation like total shutdown or other so the condition is safe," said Ibnu.
In anticipation of geological disaster, recorded in the Idul Fitri period of 2018 yesterday there have been 15 earthquakes with magnitude 4.2 - 5.7 which is not a potential tsunami. However, there are devastating earthquakes that occur in the Sumenep area and along the coast of Sarmi Papua causing minor injuries and dozens of heavily damaged and light homes.
For Volcano Status, ESDM National Team explained there was 1 volcano with alert status (G. Sinabung), 1 Gunungapi Status Alert (G. Agung), and 49 volcanoes with normal condition. As for the landslide disaster, there were 21 land movements in 19 districts / cities in 12 provinces that affected traffic inhibited, 13 houses damaged, + - 52 residents displaced and electricity broke up in Toraja.