Indonesia Opens Transportation Foreign Investment Through ASEM
By : Chodijah Febriyani And Aldi Firhand A | Thursday, July 19 2018 - 21:08 IWST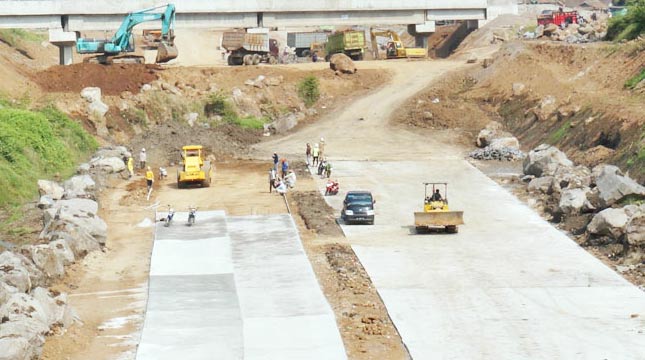 Toll Development
INDUSTRY.co.id - Medan - The Government of Indonesia in this case, the Ministry of Transportation opens foreign investment opportunities for transport infrastructure development through "Asia Europe Meeting Transport Senior Official's Meeting" (ASEM-TSOM).
Secretary General of the Ministry of Transport Djoko Sasono in Medan, Wednesday (18/7/2018) led the meeting directly and the Delegation of Indonesia led by the Head of Transportation Research and Development Agency Ministry of Transportation Sugihardjo.
"This actually opens up space, for investment, by providing better information, investors from Europe and other Asian countries are also getting better," he said.
Djoko explained that there are many potential projects in cooperation through private sector cooperation scheme (KSP).
"Related to KSP, many projects that we offer to be used by investors from Europa and Asia will be the form of transportation infrastructure whether it is airport, port, for example here Kuala Tanjung," he said.
Therefore, he continued, with the meeting, the cooperation of private government (KSP) can be realized which has the potential to accelerate development as well as saving the state budget.
"The bottom line is that we want to take advantage of the fact that we have a lot of activities that can be offered to investors, but investors like Korea, Japan, China, such as Parepare makasaar for KA, even Kualanamu are also offered," he said. .
In addition, continued Djoko, the meeting is also to increase connectivity between Asia and Europe considering the two continents controlled trading duna about 60 percent.
"So it can be a great force in this world, the development that is happening in America today, of course with the contribution of Europe and Asia, this becomes very important, therefore in terms of transportais we want really this connectivity can grow, so the development economic and other aspects are also facilitated, "he said.
On the same occasion, Head of ASEM Delegation who also served as Head of Research and Development Agency of Kemenhub Sugihardjo as reported by Antara said the state budget can only finance one third of Kemenhub project, therefore to finance two-thirds should seek other funding, in this case, private good national and foreign.
"What needs to be understood is that the ports and airports are public places, so in the process of development and operation using the concession approach, so the assets will belong to the government," he said.
ASEM-TSOM 2018 is a follow-up of the 4th Meeting of Asia Europe Meeting-Transportation Ministers Meeting (ASEM-TMM) held on 26 to 28 September 2017 in Bali, Indonesia.
ASEM-TSOM is a Senior Transport Officials level meeting of ASEM member countries.
At this meeting will be discussed follow-up Bali Declaration which has been ratified at the 4th ASEM Transport Ministers Meeting (ASEM TMM4).
It will also prepare the agenda and issues to be discussed at the 5th ASEM Transport Ministers Meeting (ASEM TMM5) meeting, which is planned to be held in Hungary in 2019.
The content of the Bali Declaration itself has two main issues raised.
First, the importance of the two continental regions of Asia and Europe incorporated in the framework of ASEM cooperation to enhance cooperation in the transport sector to support people's connectivity network and unlimited trade sectors in all regions of Asia and Europe, especially ASEM partner countries.
The second encourages all partner countries of ASEM to improve the quality of transport to ensure the reliability and sustainability of modes of transport in order to achieve affordable and equitable access to transportation for all, and to enhance private sector roles through the "Public Private Partnership" (KSP) scheme so that all partner countries will able to strengthen and accelerate infrastructure development in the transportation sector.