Counter the Crazy Siber Attack
By : Herry Barus And Aldo Bella Putra | Wednesday, July 25 2018 - 15:30 IWST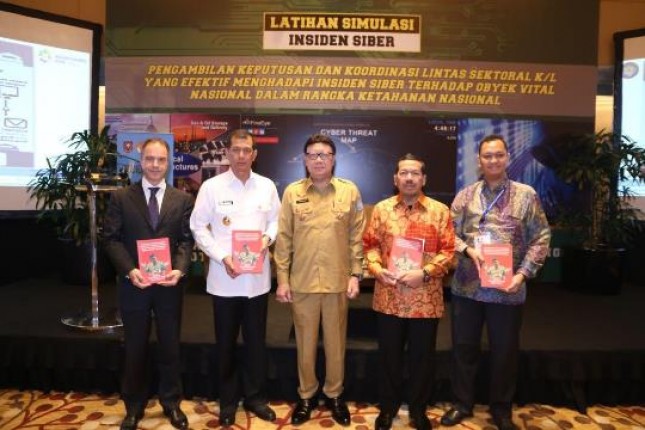 Mendagri Tjahjo Kumolo (Dok Industry.co.id)
INDUSTRY.co.id - Jakarta - In the digital era, the threat that comes is no longer conventional. Not only through physical military threats. But the threats are massive targeting via virtual channels. And, in fact, cyber threats from year to year continue to increase. It takes a serious effort to ward off it.
Such is the important note of the Minister of Home Affairs Tjahjo Kumolo at the event.
Panel Discussion on Ministry of Home Affairs' Readiness in terms of Governance, Human Resources and Cyber ​​Security Technology to Guard and Realize Good Governance, in Jakarta, Tuesday (24/7/2018).
According to Tjahjo, the digital era, is an era where communication is no longer hindered geographical physical boundaries. Sure, it's a big jump. However, over time, the face of the threat was changed. The threat is no longer through conventional means, relying on military power. But the threat of entry through the information channel.
"Critical information infrastructure is the most crucial attack point," said Tjahjo.
And the fact is that cyber attacks are increasing, said Tjahjo. Data from the Ministry of Communication and Information recorded an increase in cyber attacks from year to year. In 2014, cyber attacks impacted 11 million identities. Increased in 2015, to 13 million. Then it rose again in 2016, where cyber attacks affected 15 million identities.
"In 2017 Indonesia itself is listed as the 10 countries targeted siber attacks," he said.
Ministry of Home Affairs, as a major ministry and major, continued Tjahjo must be prepared to face threats in the digital era. Strategic measures are required both from the side of the regulation, as well as from actions to counteract the ongoing cyber attacks. In terms of regulation, it has changed the Minister of Home Affairs Regulation No. 43 of 2015 into Permendagri No. 8 of 2018. Regulation of the Minister of Home Affairs is related to the planning, development, monitoring and evaluation of information systems.
"We also from 2016 to 2017 have carried out activities to assess the security of information and communication technology systems and infrastructure within the Ministry of Home Affairs in collaboration with the National Code and Siberian Agency (BSSN)," he said.
Assessment, said Tjahjo, is to determine the information system security gap by penetrating the information system. Another anticipation step, in the form of sterilization of leadership room in environment Kemendagri done routinely. Not only that, the Ministry of Home Affairs also has a dedicated VPN line that is managed by BSSN to send and receive news, information that is ordinary, limited and confidential.
"The existing human resources are only focused on data management and information systems. There needs to be a policy related to HR management that has competence in cyberspace," he said.
The Ministry of Home Affairs itself said Tjahjo fully supports all efforts to counter cyber attacks. One of them is through rearranging regulations related to cyber threats in collaboration with BSSN. The ministry also fully supports the implementation of national cyber security.
"We are also aware, this requires the support of compatible human resources and is able to become personnel in the cyber field itself. We also support from budgeting," he said.
Tjahjo added, to improve cyber security, a national cyber resilience risk management mapping with relevant stakeholders is needed. Another thing that can be done related to it is the mapping of governance infrastructure and network of information and communication technology throughout Indonesia.