Acquisition of Rokan Block, Johan: Pertamina Not Bankrupt
By : Hariyanto And Aldo Bella Putra | Thursday, August 02 2018 - 22:30 IWST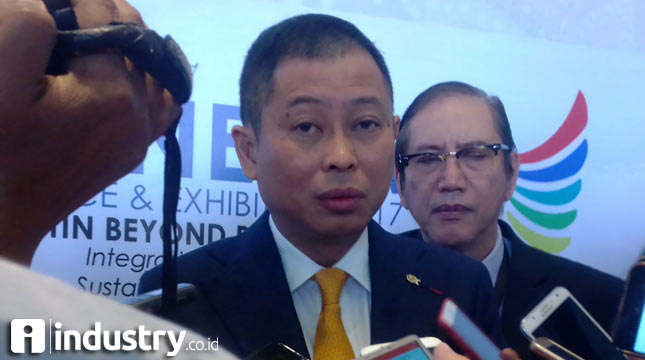 Menteri ESDM Ignasius Jonan (Hariyanto/ INDUSTRY.co.id)
INDUSTRY.co.id - Jakarta - Minister of Energy and Natural Resources (ESDM) Ignasius Jonan said that PT Pertamina (Persero) was not in a state of bankruptcy.
"If you say that Pertamina's finance is dragging right, I don't say it's bankrupt, huh. But can it still work, can it?"
The reason was revealed by Jonan based on the takeover of the Rokan Block from Chevron to PT Pertamina. According to him, to submit a proposal in the Rokan Block must have a large capital. When Pertamina submits a takeover, it can be assumed that Pertamina still has big money.
He explained, explaining that there were three things that made Pertamina as a State-Owned Enterprise (BUMN) capable of carrying out the tasks assigned by the government. First is Pertamina has very large resources, with a large market share.
"Pertamina is a huge resource, what it does is in terms of its large market share, just how to manage it must adjust from time to time," said Jonan.
Second, Pertamina is built for the Indonesian nation, not the other way around. Because Pertamina as a oil and gas "red plate" company was built to support and support oil and gas activities in Indonesia.
"According to my understanding, if the Indonesian nation is built for Pertamina, I don't think it is right, this must be juxtaposed with the BUMN Act. The BUMN law must be viewed comprehensively," he continued.
Finally, Jonan stressed that there was not the slightest desire of the government to make Pertamina go bankrupt. Because of every policy that will be made, the President always negotiates with the Minister of BUMN and himself.
"Every policy, the President always negotiates with the Minister of SOEs and me, can he or she? Be able to sir. Yes, we have walked," said Jonan.
As is known, the government not only gives Pertamina the task to provide, manage and distribute fuel oil (BBM) for all Indonesian people, but the government also strengthens Pertamina by agreeing with the DPR to increase diesel subsidies for 2019 to Rp 2,500 per liter, or an increase of Rp.2,000 per liter.
In addition, the Government has also given Pertamina termination 13 oil and gas blocks, including the latest one is the Rokan block, which is known as one of the largest blocks in Southeast Asia with an average production of around one quarter of national oil production or around 200,000 an barrel per day.