Ethnic differences make Indonesia strong
By : Herry Barus And Aldo Bella Putra | Sunday, August 05 2018 - 16:56 IWST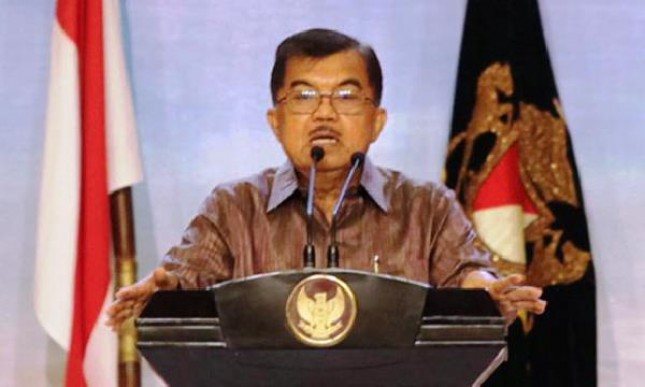 Wapres Jusuf Kalla (Foto Dok Industry.co.id)
INDUSTRY.co.id - Jambi - Vice President Jusuf Kalla said that even though the Indonesian people were different in ethnicity, the differences made Indonesia strong.
In front of around 7,500 new students of Jambi University academic year 2018/2019 at the University Hall of Jambi University, Saturday (04/08/2018) the Vice President said, prospering the country in all fields is one form of defense of the country.
Therefore, he said, ignorance must be opposed because it is the enemy of the nation.
"Defending the state means guarding the nation. Do not consider the many ethnic differences to be an obstacle, precisely the differences make us strong," he said.

On that occasion the Vice President asked the new students of Jambi University to study diligently with national insight and intend to build the country.

"My first children, you must be able to be as your parents want. Then intend to advance the nation so that our nation continues to be able to compete with other nations," he said.
According to Jusuf Kalla, if the nation's successor is not strong then the Indonesian economy will not be strong either.
As is known, the Vice President Jusuf Kalla in addition to giving public lectures at Jambi University also attended the activities of the Mosque Council in the Great Mosque of Al-Fallah, Jambi City
Meanwhile, the Chancellor of Jambi University, Prof. Johni Najwan, told Antara that the briefing on nationality and state defense presented by the Vice President was very important to be given to the younger generation, especially new students of Jambi University.
Johni said in a public lecture with the theme of nationalism and state defense, there were 7,500 new students of Jambi University who entered through three selections.
"The briefing on nationality and defense of this country is important to give to the young generation that we hope to become future leaders of the nation," he said.
Johni also hoped that the presence of the Vice President to give public lectures to new students could be a motivation and inspiration for students, especially about the importance of national insight and state defense for Indonesia's young generation.