Lintasarta Data Center Services Won the 2018 SQA Award
By : Ahmad Fadli Dan Aldo Bella Putra | Tuesday, August 07 2018 - 14:30 IWST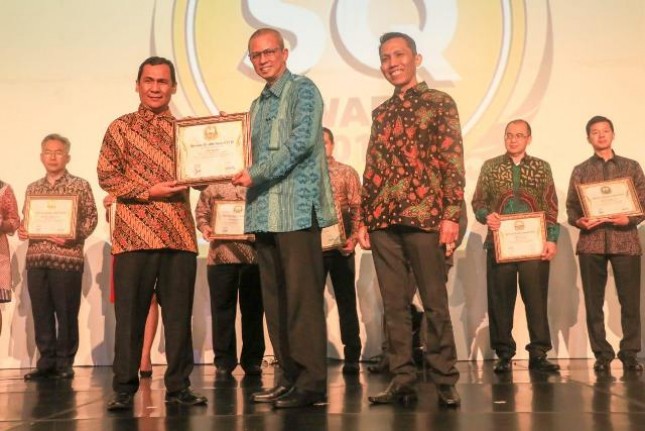 Lintasarta berhasil menduduki peringkat untuk kategori Data Center for Corporate Customer di ajang bergengsi Service Quality Award (SQA) 2018.
INDUSTRY.co.id - Jakarta - Lintasarta successfully ranked for the Data Center for Corporate Customer category in the prestigious 2018 Service Quality Award (SQA). This award was given to Lintasarta for the excellent level of data center service quality satisfaction.
The award was the second time received by Lintasarta from Service Exellence Magazine and Carre-Center for Customer Satisfaction and Loyalty (Carre-CCSL), after receiving the award last year.
Lintasarta's IT Services Director Arya N Soemali said, through this award Lintasarta will continue to improve the company's performance in terms of product innovation, service quality, and reliable experts.
"Lintasarta is committed to continuously improving the quality of services both internally and externally to make a positive contribution to national industry growth," said Arya, Thursday (2/8) in Jakarta.
The award from the 2018 Service Quality Award proved the quality and reliability of Data Center services from Lintasarta. "This award also ensures Lintasarta's Data Center services have reliability and gain high trust from national industry players," said Arya.
The winners of the 2018 Service Quality Award were judged based on the results of the Service Quality Index survey held in four major cities namely Jabodetabek, Surabaya, Medan and Semarang in the period January - March 2018 with more than 3,500 respondents
The Service Quality Award is given by looking at four aspects, first from the aspect of accessibility, how easily customers can interact with the company. Second, ease of processing. Third, in terms of human resources, namely friendliness, quality and skills. Fourth, in terms of service solution, how is the process of overcoming the problem. These four aspects are the main aspects assessed directly by customers.