Ministry of Health Coordinates Rubella Vaccine Immunization with All Regions
By : Herry Barus And Aldo Bella Putra | Thursday, August 23 2018 - 22:30 IWST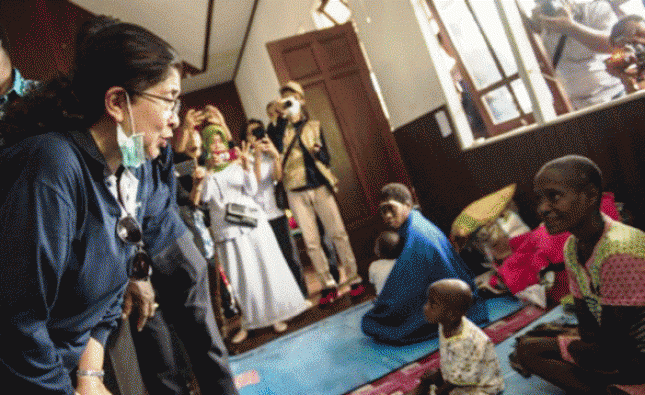 Menteri Kesehatan Nila Moeloek (Foto Dok Industry.co.id)
INDUSTRY.co.id - Jakarta - The Ministry of Health invited the heads of health services and leaders of the Indonesian Ulema Council (MUI) from 34 provinces to coordinate the continuation of the campaign and implementation of measles-rubella (MR) immunization after the decision of MUI fatwa number 33 in 2018.
Director General of Disease Prevention and Control of the Ministry of Health, Anung Sugihantono, said in Jakarta on Thursday (08/23/2018) that the meeting was aimed at disseminating the full information to health program holders, especially related to immunization in the regions regarding the importance of getting MR immunization.
"Today was presented by the Head of Health Office throughout the province and the provincial MUI to get a full explanation regarding MR immunization," said Anung.
On the occasion, Secretary of the MUI Fatwa Commission Asrorun Ni'am Soleh conveyed information related to immunization and its guidance from a religious perspective to the regional MUI. While the health and technical aspects of implementing MR immunization.
MUI decided to allow the use of measles-rubella (MR) vaccine from the Serum Institute of India (SII) despite containing non-halal elements due to emergency conditions.
The decree was stated in MUI Fatwa Number 33 of 2018 concerning the Use of MR Vaccine (Measles Rubella) Products from SII (Serum Institute of India) for Immunization published in Jakarta on Monday (8/20) night.
MUI previously determined that MR vaccine products from SII were illegitimate because in the production process they used ingredients derived from pigs. But at this time it was decided to be allowed.
In the Antara note, the use of MR Vaccine products from the Serum Institute of India (SII), is currently permissible because there is a forced condition (dlarurat syar'iyyah), yet a halal and sacred MR vaccine has not been found.
In addition there are information from experts who are competent and trusted about the dangers caused by not being immunized and the absence of a halal vaccine.
Based on data published by the World Health Organization (WHO) in 2015, Indonesia is among the 10 countries with the largest number of measles cases in the world.
The Indonesian Ministry of Health noted the number of reported measles-rubella suspects between 2014 and July 2018 was 57,056 suspected cases with 8,964 positive measles and 5,737 positive rubella.
"More than three quarters of the total reported cases, both measles (89 percent) and rubella (77 percent) were suffered by children less than 15 years of age," said Anung Sugihantono. (Ant)