President Jokowi Asks College to Innovate
By : Herry Barus And Aldo Bella Putra | Monday, August 14 2017 - 15:31 IWST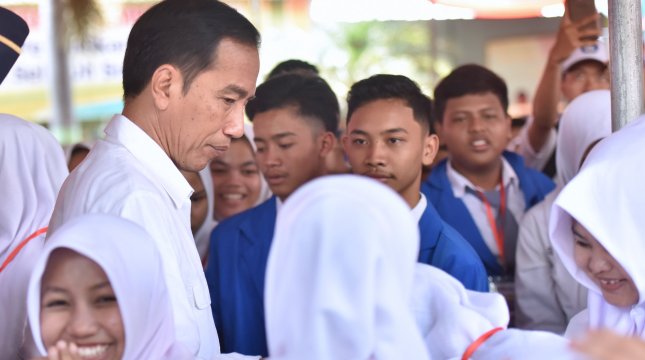 5166
INDUSTRY.co.id - Jember - President Joko Widodo (Jokowi) assesses that the curriculum of higher education in Indonesia is still monotonous and does not follow the development of the era so it must dare to innovate.
"The university must be brave to change, Muhammadiyah University of Jember must also dare to change.If Muhammadiyah University of Jember started, other universities will be left behind," said President Jokowi in a public lecture at the college, Sunday (13/08/2017)
The President hopes that the University of Muhammadiyah Jember can be a pioneer of university innovation in Indonesia.
The University of Muhammadiyah Jember has eight faculties. "Economics, law and social-politic must exist," said the President.
According to him, the faculties should be adapted to current developments, such as opening the faculty of online store management, faculty animation, faculty of electronic sports and also video faculty.
Jokowi also mentioned that the rapid changes in the world must be wary because it is not impossible foreign cultures can infiltrate the Indonesian culture. Therefore, President Jokowi advised the students to be able to anticipate this.
"I especially sent to Muhammadiyah, both in Jember branch and in general throughout Indonesia, these changes need to be anticipated, and do not let our values ​​of Indonesianism and Islam be eroded because we are not ready to anticipate," said the President.
According to him, global changes touch almost all lines of life, ranging from internet, payment processing, transportation, to space management. If not quickly realized, Indonesia will be left behind from other countries.
"Changes are very fast, we have to realize that, if we do not realize we can be left behind, especially to realize the human resources we have," he said.
In the case of transportation, for example, the President explained how other countries already have more advanced and modern means of transportation while Indonesia, currently just start construction.
"We are just building the MRT, LRT, and the new train will start soon," said the President.
In addition, other changes that should also be anticipated are changes in patterns of social interaction in society. The rapid technological developments also contributed to the change in the future.
"People will be 5-10 years old who will not read the newspaper, Y generation, the current students, 5-10 years will come only this (gawai) .Want to find news do not want to read the newspaper, live Click and read online, do not want to see TV again later," said the President.
The President also advised the students to continue to uphold mutual respect and mutual respect among religious believers in Indonesia. This is done in order to preserve the unity of the Unitary State of the Republic of Indonesia which is endowed with the God of religious, ethnic, cultural and linguistic diversity.
"This is God's grace given to us, the Indonesian nation ... It has become the law of God, it has become our destiny that we are living in a vast diversity," the President said.