Participants in the 2018 GIIAS Makassar Auto Show give a series of attractive promotions
By : Herry Barus And Aldi Firhand. A | Friday, August 24 2018 - 19:58 IWST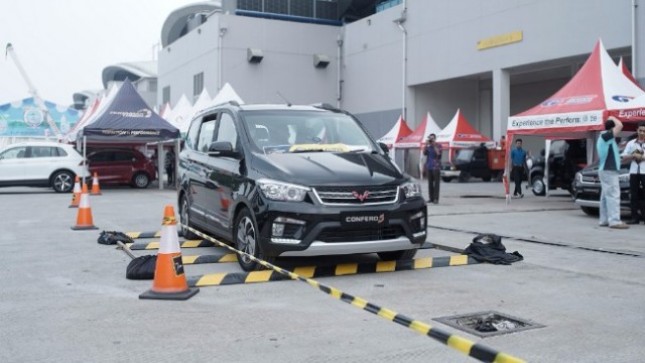 Wuling Confero S became one of the favorite vehicles of visitors during the Test Drive in GIIAS 2017. Until the date of August 14, 2017, Test Drive has been done as much as 2166 times (INDUSTRY.co.id)
INDUSTRY.co.id - Makassar - The 2018 GIIAS Makassar Auto Show car show continues to run until Sunday, August 26, 2018 at the Celebes Convention Center Makassar. Every event is always accompanied by sharing attractive promos prepared by all participants both from the Brand Holder Agents (APM) and the automotive and aftermarket supporting industries.
The presence of the automotive supporting industry at GIIAS Makassar Auto Show 2018 is an effort of the organizers to provide services to complement the needs of visitors who have just conducted SPK for vehicles that have just been purchased at the exhibition or for private vehicles that have been owned.
Related to this, various kinds of special promos during the exhibition were always prepared by participants. Like it is Wuling who gives cashback of 16 million rupiah for the Convero type both on cash and credit. As for the Cortez type, the highest cashback reaches 20 million rupiah. Visitors who do SPK at GIIAS Makassar Auto Show 2018 have the right to try their luck in Lucky Dip, with prizes including 5gr gold, vouchers to stay at the hotel for 3 days 2 nights, gasoline vouchers, e-toll vouchers, up to their respective shopping vouchers one million rupiah. In addition, every purchase will also be included with a doorprize lottery with 1 standard Confero type prize.
Another thing with Mazda that provides cash back for all cars on display. There are 4 cars on display at Mazda's booth, namely CX-3 and Mazda 2 with a cashback of 20 million each, CX-5 with 15 million cashback, and the highest is Biante type with cashback of 65 million rupiah. This cashback is only valid for every SPK made during the exhibition.
Yusuf Karim Ungsi as the exhibition organizer expressed his appreciation for the support of each participant who in this case has prepared many special promos at the 2018 GIIAS Makassar Auto Show, "We appreciate the promo program from each APM participant and participants from the automotive industry supporters who have proved that this program was able to help increase public interest to attend the exhibition and transact at 2018 GIIAS Makassar Auto Show. "He said.
No need to worry, for people who want to get promo prices on the latest products at GIIAS Makassar Auto Show 2018 they can still come to Celebes Convention Center (CCC) Jl. Metro Tj. Bunga, Penambung, Makassar. This exhibition will run until Sunday, August 26, 2018.