Expansion, Suzuki Opens Outlet 326 in Lampung
By : Ahmad Fadli And Aldi Firhand. A | Thursday, August 30 2018 - 23:54 IWST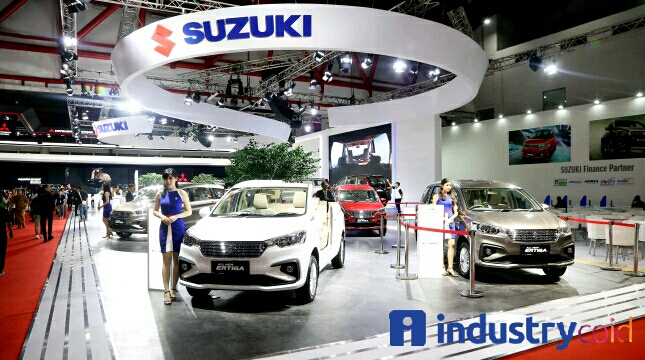 Both Suzuki at IIMS
INDUSTRY.co.id - Jakarta - PT Suzuki Indomobil Sales (SIS) inaugurates the latest outlet with 3S facilities (Sales, Service, Spare Parts) & Body Repair in Natar, South Lampung.
This outlet is a collaboration between PT SIS and PT Persada Lampung Raya to strengthen Suzuki's service in Lampung. PT Persada Lampung Rayah until now has had nine outlets consisting of one outlet with 3S & Body Repair facilities, two 3S outlets, and six outlets with 1S (Sales) facilities.
Present at the Grand Opening event of PT Persada Lampung Raya Natar Branch, Setiawan Surya, 4W Deputy Managing Director of PT SIS revealed, "I am very proud to be present at today's program. The opening of this outlet is our commitment to expand sales networks, repairs, and parts for Suzuki products. This latest outlet has 3S & Body Repair facilities and is in accordance with PT SIS standards. Hopefully this new outlet can improve better service for Suzuki loyal customers in South Lampung, "he explained.
PT Persada Lampung Raya is part of the Persada Lampung Raya Group which was established since November 1980 and has 259 employees. In terms of sales, Suzuki Persada Lampung Raya has always achieved positive results every year. For the period January-June 2018, Suzuki Persada Lampung Raya managed to win a market share of 6.8% in Lampung.
This newest outlet is located on Jl. Raya Natar Km 14, Hajimena, Natar, South Lampung Regency. Founded on an area of ​​2.208m2 with a building area of ​​2,051m2; the outlet is divided into two-storey showroom buildings, each on the 1st floor of the showroom covering 288m2, a workshop area of ​​304m2, and a body repair area of ​​924m2. Bringing the concept of exterior building design and modern and modern interiors to give the impression of luxury and comfort for customers.
In addition, to provide maximum service to customers, this outlet is equipped with facilities such as children's playground, Wi-Fi, Full Air Conditioner, and other facilities. Facilities and workshop equipment are in accordance with Suzuki standards so that they are expected to be able to serve the people who want to carry out their car service in South Lampung. and surrounding.
This latest outlet receives periodic maintenance improvements and Body Repair. Periodic maintenance consists of 3 stalls which have 2 lift units consisting of 1 unit of two post lifts and 1 unit of scissor lift. Complete maintenance workshops are equipped with the necessary equipment such as Smart Diagnostic Tester (SDT), Suzuki Special Tools (SST), Digital Battery Tester, and washing services and vacuum. The total capacity of the latest outlets can accommodate more than 10 units per day.
For Body Repair, this latest outlet has several advantages such as the use of the best vehicle paint material with a 5-year and 6-month paint warranty repair and Dry Sanding with Vacuum to minimize pollution and rust effects due to the use of deep water. This Body Repair facility is able to accommodate up to 200 units / month. Even though it was only inaugurated, Suzuki Persada Lampung Raya Outlet has provided bodione day service repair services.
With the opening of this new outlet, Suzuki has a total of 53 dealers and 326 outlets spread throughout Indonesia. This new outlet opening is a form of Suzuki's commitment to be closer and answer the needs of its loyal customers by considering three things in product development, namely maximum product quality, costs that are comparable to the purchasing power of the customer, and improvements to the product from time to time.