Fear of Trauma, Acehnese Community Refuses Construction of Tampur Hydropower
By : Ahmad Fadli Dan Aldo Bella Putra | Friday, August 31 2018 - 04:00 IWST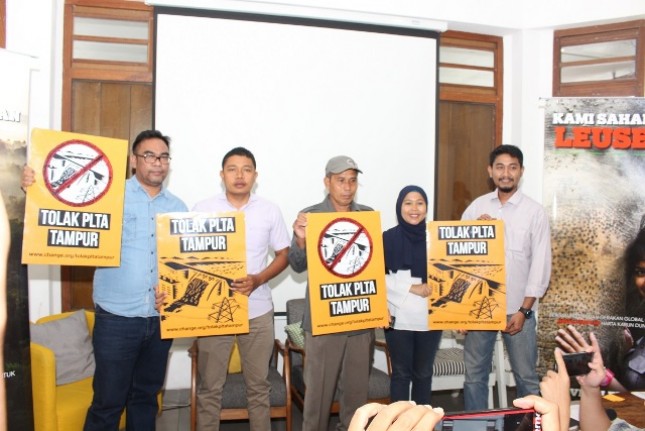 Pembangunan mega proyek Pembangkit Listrik Tenaga Air (PLTA) Tampur yang telah mendapatkan izin pinjam pakai kawasan di Kabupaten Aceh Tamiang, Gayo Lues, dan Aceh Timur, Provinsi Aceh, bermasalah.
INDUSTRY.co.id - Jakarta - Aceh Tamiang Community, Matsum said he was worried about plans to build a hydroelectric power plant (PLTA) Tampur. The reason is that the Tampur hydropower construction uses a 193.5 meter dam to accommodate Tampur river water, a tributary of the Tamiang River.
The collected water is then diverted through a 190-meter tunnel to the power house turbine below where the water drives the turbine that rotates the generator. After passing through the turbine, the water is diverted back to the river.
"We Tamiang people feel anxious because we were traumatized by the flash flood that hit Aceh Tamiang in 2006. It's not that we are anti-development, it's just not there, there are many other places that can generate electricity without destroying the forests and causing disasters," Matsum said also a member of the community of forest and river guards, in Jakarta, Thursday (08/30/2018).
This power plant with a capacity of 443 Megawatts was carried out by Hong Kong's foreign capital company PT Kamirzu. The construction of a hydropower plant within the Leuser Ecosystem Area (KEL) swallows a substantial investment of Rp. 40.5 trillion where the construction phase is planned to begin in late 2018 to be ready for use in 2025.
Rudi Putra, an Aceh Tamiang resident who is also an environmental activist, said that the land conditions in the Leuser Ecosystem are very unstable. Landslides that affect the age of the dam.
"Every year the hills at Leuser collapsed due to landslides. "High dams are very unsuitable because of unstable soil conditions," explained Rudi, who has worked in the Leuser forest for a dozen years.
Rudi said, based on the monitoring of GIS, the reduction in the area of ​​the Leuser forest cover took place far from residential areas. It took several days to reach that location. "We initially thought, this happened because of illegal activities. To be sure, the team was revealed. When on site, the team found the forest was damaged by landslides. "
Rudi said that the location of the hydropower project was near the fault which was prone to earthquakes. This can also accelerate the age of the dam. "I can't imagine that the dam is broken," he said.