Priced at IDR 3 Million, Nokia 6.1 Plus Officially Present in Indonesia
By : Ridwan And Aldo Bella Putra | Friday, September 07 2018 - 10:30 IWST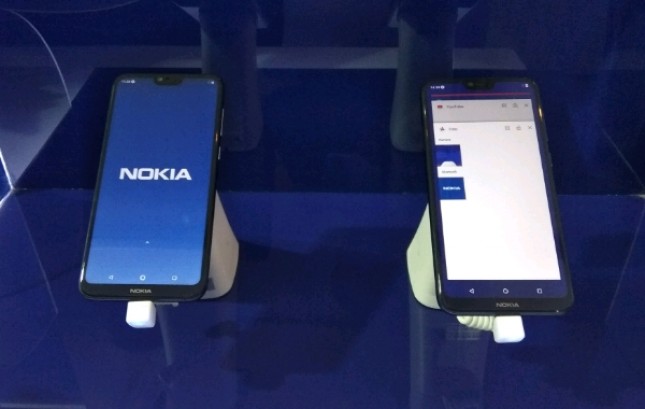 Nokia 6.1 Plus (Foto: Ridwan/Industry.co.id)
INDUSTRY.co.id - Jakarta, HMD Indonesia as the holder of the Nokia brand, officially released the Nokia 6.1 Plus smartphone in Indonesia.
The device comes with various new and interesting features to meet the needs of users in their daily activities.
"Indonesia is one of the big smartphone markets in the world. Nokia 6.1 Plus is a smartphone that is very millennial, suitable for millennial generation. Indonesia is the second country to launch smart phones after India," said HMD Indonesia Country Manager, Sanmeet Sing Kochhar at the launch of Nokia 6.1. Plus in the Sarinah Parking Area, Central Jakarta, Thursday (6/9/2018).
Nokia 6.1 Plus has a 5.8 inch screen with a ratio of 19: 9 Full HD + and 96 percent provides a better viewing experience. The smartphone is designed with Nokia's high standards and precision, its surface is coated with Corning Gorilla Glass which gives a luxurious touch.
The Finnish mobile phone is armed with Qualcomm's chipset, Snapdragon 636. The chip delivers 40 percent better performance than the previous generation. And installed 4 gigabyte RAM (GB) with 64 GB internal memory which can be expanded by microSD.
"India and Indonesia have similarities in the smartphone market, even in India three days pre-orders have run out. This provides the best experience for fans when using this device," Sing Kochhar added.
The smartphone is designed with a screen to 81.4 percent body, making it look more stunning and the edge curves make it comfortable when held. The phone also runs the Android Oreo operating system.
"The dual rear camera with a 5 megapixel 16 plus sensor makes the best picture taking experience. While the front camera is 16 megapixels, there is also dual tone flash. The camera is also installed with AI technology," APAC HMD Global Head of Product Marketing Wayne Tang.
According to Tang Nokia 6.1 Plus is a smartphone that answers the needs of the younger generation. The camera is equipped with the Bothie feature, which can use the front and rear cameras simultaneously.
"This is the answer for young people who like to surf the internet, with the technology in this cellphone can make a good video call experience because the front and rear cameras can be used simultaneously. Plus new features like emojis," he continued.
Sing Kochhar explained that Nokia 6.1 Plus was priced at Rp. 3,399 million. HMD also works with Smartfreen by offering attractive offers such as getting Nokia 6.1 Plus for Rp. 999 thousand by subscribing to internet data packages for 12 months, paying Rp. 358.25 thousand per month. Or get the smartphone for free by subscribing to internet data packages for 24 months, per month to pay Rp 275 thousand, these offers can be obtained through online stores Blibli.com and dinomarket.com.