42 Years of Business, PT DI Intensively Exports Aircraft to Various Countries
By : Herry Barus And Aldi Firhand. A | Thursday, September 13 2018 - 17:48 IWST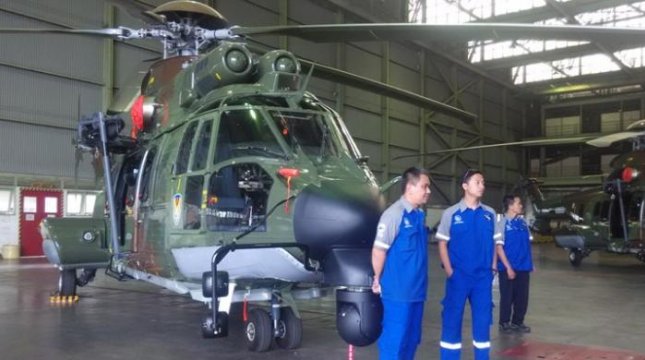 EC 725 Cougar helicopter made by PT Dirgantara Indonesia. (KOMPAS.com/Reni Susanti)
INDUSTRY.co.id - Bandung - The Ministry of State-Owned Enterprises (BUMN) continues to provide support for increasing exports of domestic products. One of them is the export of aircraft made by PT Dirgantara Indonesia (Persero).
This was stated by the Deputy of Mining Business, Strategic Industry and Media of the Ministry of BUMN, Fajar Harry Sampurno when visiting the Rotary Wing Hangar, PT Production Area II in the series of activities to commemorate the 42nd Anniversary of PT DI in Bandung on Wednesday (12 / 09/2018).
"The government continues to provide PT DI's support to continue to improve its work both at home and abroad and continue to contribute to economic growth. Amid the current weakening of the Rupiah, for example, we continue to encourage PT DI to increase export sales. In the long term, we also hope that this BUMN will also continue to increase its competitiveness so that it can continue to expand its wings, not only in Asian countries but also in Europe, America and Africa, "said Harry.
He also appreciated the various products that PT DI had produced since its establishment in 1976 including aircraft, aircraft structural components, aircraft maintenance services and engineering services. For 42 years, PTDI has delivered more than 400 aircraft to 49 civilian and military operators, at home and abroad.
PT DI also manufactures various types of CN235 aircraft with type certificates for civilian passengers, cargo, rain makers, military transportation, maritime patrols, surveys and coast supervisors.
"We also continue to encourage PT DI to continue to update and improve the capacity and capabilities of Human Resources (HR). In addition, the design and manufacture of aircraft in the country will ultimately also encourage the value of the Domestic Content Level (TKDN) through the empowerment of local industries, "said Harry.
On the same occasion, PT DI's Managing Director, Elfien Goentoro revealed, since its establishment in 1976, the company has exported 48 aircraft to countries such as Malaysia, Thailand, United Arab Emirates, Senegal, Brunei Darussalam, Pakistan and South Korea .
For the 2018-2020 period, the company has obtained an Export Walk Contract in the form of 2 NC212i Paratroop versions for the Ministry of Agriculture of Thailand, 1 unit of CN235-220 Troop & Paratroop version for the Nepalese Army and 1 unit of CN235-220 Maritime Patrol Aircraft for the Senegal Air Force. The total value of the company's bagged contract for the period 2018-2020 was recorded at US $ 79.80 million.
"CN235-220 aircraft will be purchased by countries including Ivory Coast, Australia, Senegal and Nepal. Whereas for NC212i aircraft will be purchased again by the Philippines and Senegal, "said Elfien Goentoro.
For 2018, the company holds an Export Running Contract 2 units NC212i (Fixed Wing Aircraft / LLFWA Light Lift) for the Philippine Armed Forces and 3 units of NC212i Miltrans for the Vietnam Air Force with a total contract value of US $ 35.53 Million.
"Some of our strategies in encouraging export sales include synergies with stakeholders and also cooperating with financial institutions for our funding needs," Elfien said.
In the commemoration of the 42nd Anniversary of PT DI, Awarding Day was also held as a form of appreciation and appreciation for the best people who have contributed in developing the aerospace industry in Indonesia.
Awarding Day is also an appreciation of the idea, innovation, support and dedication to build and develop the aerospace industry in a better direction.
"We are very grateful for the support, ideas and innovations in developing and maintaining the sustainability of the Indonesian aerospace industry. Hopefully we can build and develop the aerospace industry in a better direction," said Elfien.