Mandiri Utama Finance Launches MUFSyariah as a Sharia-based Financing.
By : Amazon Dalimunthe And Aldo Bella Putra | Wednesday, September 19 2018 - 18:30 IWST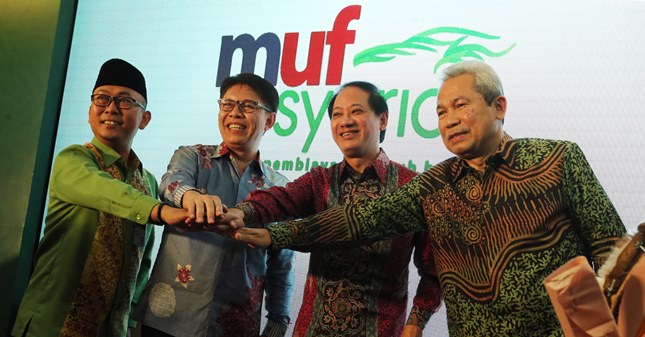 Ki-ka : Bapak H.M Ziyad Ulhaq, SQ, S. HI.,S.Ei., MA., Ph.D selaku Dewan Pengawas Syariah MUF, Bapak Toni Eko Boy Subari selaku Direktur Utama BSM, Bapak Stanley S. Atmadja selaku Direktur Utama MUF dan Bapak Mansyur S. Nasution selaku Komisaris MUF f
INDUSTRY.co.id - JAKARTA - Indonesia's automotive market continues to grow stably, giving a huge opportunity for automotive financing. On the other hand, Indonesian people's interest in sharia-based financing is also getting higher. Based on these two things, Mandiri Utama Finance (MUF) launched the MUFSyariah product which is a sharia-based automotive financing product.
Prof. Dr. Yunahar Ilyas, Lc., M.Ag, who served as Chairman of the MUF Sharia Supervisory Board, said that all aspects of MUFSyariah financing were supervised and accompanied by the Sharia Supervisory Board which was recommended by the National Sharia Council of the Indonesian Ulema Council. "We ensure that all elements of financing are in accordance with Islamic principles and encourage Indonesian people not to hesitate using MUFSyariah financing products," said Prof. Dr. Yunahar Ilyas, Lc., M.Ag
MUFSyariah products use the murabahah contract, which is a usury-free sale and purchase agreement. Through this scheme, MUFSyariah will emphasize the purchase price or acquisition price to consumers, as well as the margin as the profit of MUFSyariah. Furthermore, consumers make payments in installments according to the agreed time period. In addition, MUFSyariah also provides several other benefits for customers including the choice of various types of vehicles (new cars and new motorcycles), financing tenors of up to 5 years and an easy and fast process.
In 2018, MUFSyariah is ready in 8 cities of MUF branch offices that have obtained official Islamic financing licenses from OJK, namely Jakarta Duren Tiga, Tangerang, Subang, Magelang, Kediri, Gresik, Surabaya, and Pekanbaru. Furthermore, MUF will expand to all 111 branch offices throughout Indonesia. Customers can visit MUF branch offices or through MUF car and motorcycle dealerships in these cities.
Meanwhile Stanley Setia Atmadja President Director of MUF said that the presence of MUFSyariah products is expected to be a blessing financing solution for the people of Indonesia. "Through this MUFSyariah product, we hope to provide convenience for the Indonesian Muslim community in particular, to have a dream vehicle in accordance with the principles and guidance of religion.", Said Stanley Setia Atmadja.
Through this MUFSyariah product, MUF is the only state-owned financing company in Indonesia that is ready to market Sharia-based automotive financing products. Consistently, MUF will continue to present products that are in line with customer needs and provide maximum contribution to all stakeholders, the Indonesian people and nation. (AMZ)