Nine Million Farmers Feel BASF Product Benefits
By : Herry Barus And Aldo Bella Putra | Wednesday, September 19 2018 - 21:30 IWST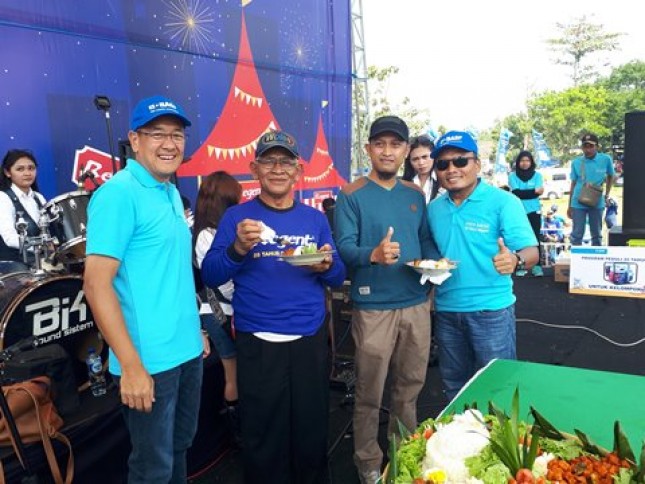 25 Tahun BASF (Foto Dok Industry.co.id)
INDUSTRY.co.id - Pamanukan - BASF celebrated the 25th anniversary of Regent, one of the pioneers of insecticide brands in Indonesia. Since 1993, Regent has helped more than 9 million farmers in 17 provinces in Indonesia to control pests in nearly 2.8 million hectares of land.
Without a dose increase or resistance problem since it was introduced in the market, Regent has become a mainstay of more than two generations of farmers in Indonesia because of its quality and consistency.
"Regent not only protects plants throughout the season, but also can make plants stronger and healthier than plants that only use standard insecticides. The potential for increased yields contributes positively to the welfare of farmers, "said Ganesh Pamugar Satyagraha, Head of Agricultural Solutions at BASF Indonesia.
In Indonesia, around 90% of Regent's applications are used for rice, a staple food in the country, "meaning, Regent has contributed to food security in Indonesia," Satyagraha added as quoted from a press release received by the Editor yesterday.
In appreciation of the loyal support of the farmers, in September, BASF held three celebratory events - in Kediri, East Java, in Demak, Central Java, and in Pamanukan, West Java. Thousands of farmers attended the three events while participating in fun and healthy activities such as healthy roads, blood donors, bazaars and other games.
During the event, BASF's research and development team presented the latest agricultural technologies and solutions, including Xemco insecticides, one of the company's leading innovations. Starting from Regent's success and strength, Xemco helps farmers protect rice plants from the main pest, especially planthopper pests, and provides additional protection against stem borer pests and leaf folding pests.
"Regent's strong success record, coupled with our latest solutions, is clear evidence of BASF's unwavering commitment to create a chemical for a sustainable future," said Daniel Loh, BASF's President Director in Indonesia. "Agriculture is very important for Indonesia and the world, and BASF allocates a portion of the total research and development funding of 1.88 billion Euros to develop innovations that can increase yields to meet demand for food, while ensuring the health of farmers, customers and the environment."