Pusri Export 173,222 Tons Urea
By : Herry Barus And Aldi Firhand. A | Thursday, September 20 2018 - 20:57 IWST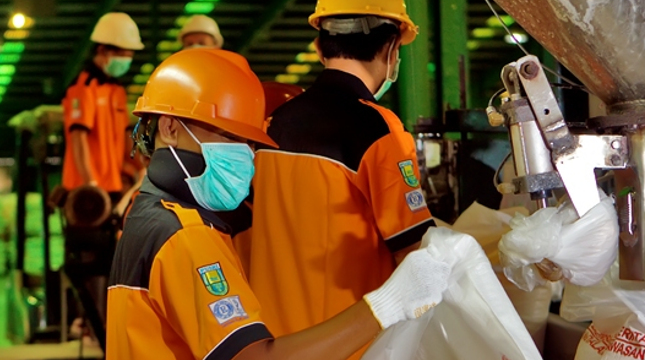 Pupuk Sriwijaya
INDUSTRY.co.id - Palembang - PT Pupuk Sriwidjaja (Pusri) Palembang recorded exporting 173,222 tons of urea fertilizer to various countries until September 2018 so that it was optimistic to score this year's performance.
PT Pusri Palembang Public Relations Manager Hernawan L Sjamsuddin in Palembang on Wednesday said that the realization of the urea export was to Taiwan, the Philippines, Malaysia, Thailand, Japan, India, Vietnam and South Korea.
"The export was recorded until mid-September 2018. Besides Asia, we also exported urea to Australia, South Africa and Chilli," he said.
He explained, the export of urea fertilizer was carried out after obtaining an export permit and fulfilling the allocation of the need for subsidized domestic fertilizer (Public Service Obligation / PSO).
The subsidiary of PT Pupuk Indonesia (Persero) will continue to export as much as 100,000 tons of urea in the third quarter / 2018. Besides urea, the company also exports ammonia which is able to compete in the regional market.
"Countries in the Southeast Asian region such as Thailand, Vietnam, Malaysia, Philippines and Singapore are still the main destinations for Pusri's ammonia export market," he said. As reported by Antara.
Pusri has exported 73,207 tons of ammonia per September 2018 from the total projection in 2018 of 115,360 tons of ammonia.
The export activities carried out by Pusri also contributed to the performance of the parent company, Pupuk Indonesia (Persero), namely during January - August 2018 the company's exports reached 1.08 million tons.
The total exports consisted of 616,294 tons of urea, 371,841 tons of ammonia, and 93,290 tons of NPK.
According to Hernawan, in addition to aiming to increase income, fertilizer exports are carried out to support government policies in order to boost the economy and strengthen the rupiah exchange rate against the US dollar.
"This is in line with BUMN Minister Rini Soemarno's statement when he symbolically released 20,000 tons of urea exports to the Philippines from the PT Pupuk Kalimantan Timur Port, Bontang, recently," he said.