Energy Drinks Are Not Doping, This Is the Explanation From Kratingdaeng Boss
By : Kormen And Aldi Firhand. A | Thursday, September 20 2018 - 21:16 IWST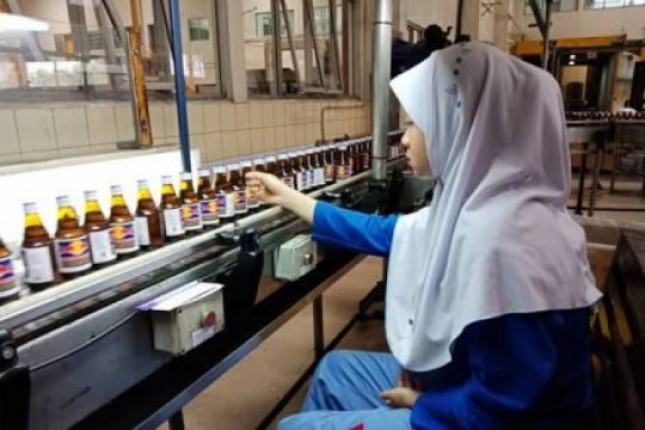 Kratingdaeng (Foto Kormen)
INDUSTRY.co.id - Jakarta - Energy drinks are increasingly consumed to increase energy, especially for those who have a lot of activities. The specialty of energy drinks lies in their composition and ingredients which are said to boost energy.
But energy drinks such as Kratingdaeng, which began working in the world of sports make many people wonder, whether energy drinks contain doping or is it safe to consume?
In fact, energy drinks with good ingredients can actually increase stamina and help increase the concentration of consumers. Kratingdaeng is a supplement drink that can help increase energy for those who consume it, because it contains active substances that are very safe for the body.
"Kratingdaeng has obtained a circulation permit from BPOM and is declared safe for consumption and does not endanger its consumers. The active compounds or substances contained in Kratingdaeng actually benefit those who consume them, "said Trisno Winata, Chief Operating Officer of PT. Asia Health Energy Beverages, a producer of Kratingdaeng at a Factory Visit event in Sukabumi (09/19/2018).
According to him, in addition to obtaining a Circular Permit from BPOM, Kratingdaeng has also received HALAL certification from the MUI, which includes halal in the production process, production preparation to post-production storage.
"In addition to being halal, Kratingdaeng is safe to consume and does not cause side effects if it fulfills the good and correct consumption rules as stated in the packaging," said Trisno Winata further.
Kratingdaeng as a supplement can increase stamina, increase energy if consumed regularly and in accordance with predetermined drinking rules. In addition, Kratingdaeng also has a delicious and fresh taste, especially when served in cold conditions.
Kratingdaeng's main active compound that helps increase energy and stamina is Taurine at 1000 mg. Taurine function in certain levels can contribute to heart health because it can reduce inflammation associated with coronary artery disease and can even prevent arteriosclerosis. Other ingredients are Caffeine, Inositol, Vitamin B, Pro Vitamin B5 and pure sweetener in the form of sugar cane.
So once again Kratingdaeng is safe for consumption and the safest consumption per day is 3 bottles per day. Everyone has different resistance in absorbing the content in this drink, so the effect is different for each person. Consuming this product must also be followed by a healthy lifestyle such as regular eating, adequate sleep and exercise as needed.
When consuming this drink, consumers must always read the drinking rules in the bottle. "This drink adds energy to those who consume it. If there is a complaint related to products, packaging and other unwanted products, consumers should immediately report it to customer service. "
In Indonesia, Kratingdaeng still controls the energy drinks market and its market share is still number one in the bottled beverage category. Kratingdaeng's work in Indonesia itself is well known in the world of sports. Kratingdaeng is synonymous with the Kobatama Basketball Tournament in the early 2000s and also sponsors the World Cup in the local media which holds the world cup broadcast rights. As the digital world grows and develops, Kratingdaeng also moves to support e-Sport activities and the gaming community in Indonesia. Moreover, this type of e-Sport has become increasingly global and is included in one of the branches contested at the Asian Games in Indonesia in 2018.
Kratingdaeng is an energy drink from Thailand which was founded by Chaleo Yoovidhya in 1976. The Kratingdaeng logo itself symbolizes the essence of Kratingdaeng, namely two bulls as a symbol of strength, red color of resilience and the background of the Sun symbolizing energy.
Kratingdaeng entered Indonesia through import in 1991 and only in 1997 was produced by PT. AHEB (Asia Health Energy Beverages) and marketed by PT. AsiaSejahtera Perdana Pharmaceutical. Until now Kratingdaeng has been sold in almost all countries in Southeast Asia, China and 165 other countries around the world by the name of Kratingdaeng and RedBull. Kratingdaeng is Thai, which means Red Bull. In Indonesia, Kratingdaeng also sponsors sports and extreme sport-based events. (Kormen)