Aston Marina Ancol Holds Betawi Painting Exhibition Enliven Indonesia's 72nd Anniversary
By : Ahmad Fadli And Aldi Firhand. A | Wednesday, August 16 2017 - 20:42 IWST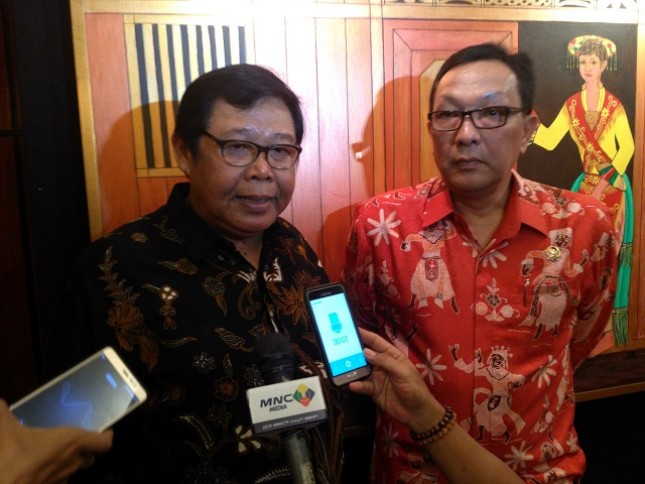 Sarnadi Adam famous Betawi painter along with Deputy Chairman of Parliament Cooperation Board (BKSP) Regional Representative Council (DPD) RI Dailami Firdaus Open Betawi Painting Actor, at Hotel Marina Ancol Tuesday (15/08/2017) Photo: Industry.co.id
INDUSTRY.co.id - Jakarta - Hotel Aston Marina Ancol helped enliven the 72nd Independence Day of the Republic of Indonesia, the participation was realized through a painting exhibition entitled 'Betawi in Sarnadi Adam Painting ' which lasted until 25 August 2017 and opened to the public.
"We hope the exhibition of Sarnadi Adam's painting collection can trigger and build our relationship in strengthening the nation's character until finally this nation becomes the winning nation," said Marketing Communications Manager Aston Marina Ancol, Paundra Hanutama, at Aston Marina Ancol, Tuesday (15/08/2017 ).
He said the exhibition was intended as a form of appreciation for Sarnadi Adam for his great works towards the Indonesian nation. Sarnadi Adam is an Indonesian artist known through his works in the form of art.
He has been invited to hold exhibitions of paintings in several European countries, the Netherlands, the United States, Argentina and others. Sarnadi Adam has various ways of photographing Betawi people, both the environment, the individual and the community he pours through his paintings.
Sarnadi Adam the famous Betawi painter expressed that Betawi is not just about ondel-ondel and lenong. Betawi painting has a specific theme and unique.
"Its name is Betawi painting, its theme about Betawi variety which poured in painting. Like the life of fishermen in the bay of Jakarta, Betawi dancers and Jakarta Tempo Doeloe. In this exhibition he will exhibit 26 works of painting and 2 pieces of Betawi statue, "he said
Meanwhile, Vice Chairman of the Parliamentary Cooperation Agency (BKSP) Regional Representative Council (DPD) RI Dailami Firdaus hope that the holding of Betawi painting exhibition can bring Betawi painting and culture better known in the international arena.
Themes are very valuable to be a lesson for the community, especially the younger generation is behind the holding of paintings exhibition Sarnadi Adam.
"We appreciate the holding of this Betawi painting exhibition that can raise the local wisdom of the area. In addition it also plans to hold a painting exhibition and photos in order to welcome the National Hero Day next November by presenting 10 painters from different streams, "said Dailami
As is known, the painter Sanardi Adam has won various awards from the best painters Jakarta in 2000 given by the Government of DKI Jakarta, to Satya Lencana Karya to X in 2000 and XX in 2011. It is remarkable man who is also a lecturer at the Faculty of Languages ​​and Arts, State University of Jakarta.