Gov't Plants Trees with Economic Value in Greenbelt Area of Tukul Dam
By : Nata Kesuma | Thursday, April 15 2021 - 12:55 IWST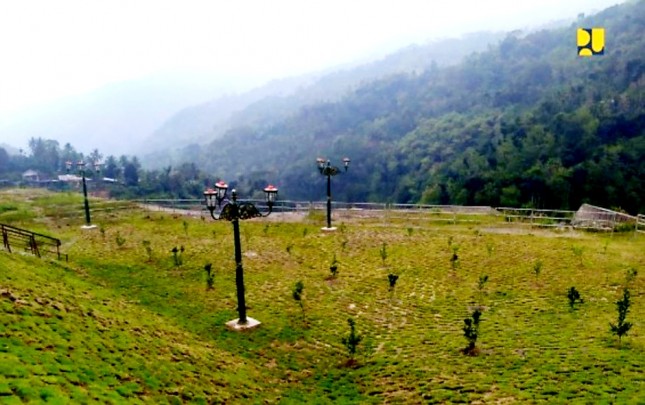 Tukul Dam Greenbelt Area, Pacitan, East Java. (Photo by: PR of Ministry of Public Works and Public Housing)
INDUSTRY.co.id - In a bid to actively play a role in nature conservation through reforestation in all infrastructure areas, Ministry of Public Works and Public Housing (PUPR) has decided to plant trees with economic value in the greenbelt area of Tukul Dam, which is located in Pacitan Regency, East Java Province, covering 2,496 hectares of land.
As many as 655 trees will be planted, consisting of 50 Musang King durian trees, 300 mango trees, and 305 baby orange Pacitan trees.
The planting will involve the retiree association of PUPR Ministry (IPPU) and the local community groups.
"In the development activities, the Ministry focuses on providing employment or labor-intensive works, for example greening, starting from seedling process, planting to its maintenance, it is expected that it will also open up new jobs," Minister of Public Works and Public Housing Basuki Hadimuljono said, as quoted from the Ministry's website on Monday (12/04).
Sunarto, a member of the Tukul Farmers Group, expressed his gratitude for the chance to get involved in the Tukul Dam plant management.
"So far, Pacitan is known for having durian as a superior commodity with a much shorter cultivation. We hope that in the future the results of this plant management can be utilized by the surrounding community," he said.
Meanwhile, the Ministry's Expert Staff for Socio-Culture and Community Role Sudirman said that trees planted must have the criteria to strengthen infrastructure and have economic value, especially from the fruit. He added that the tree planting technique and the maintenance have been regulated by taking into account the condition of the land and infrastructure in the area.
"The Tukul Dam, which was inaugurated by President Joko "Jokowi" Widodo, on 14 February 2021, besides being useful for irrigation, raw water supply, flood control and power generation, must be managed and have an adequate greenbelt area through tree planting that taking into account the soil structure," he said.
The Tukul Dam has a capacity of 8.68 million cubic meters which is used for irrigating 600 hectares of land and reducing flooding by 42.22 m3/second. It is also has the potential to be the source for 2 x 132 kilowatts of Microhydro Power Plant (PLTMH), conservation of water resources, and tourism.
This dam was built from 2013 to 2021 using the State Budget of Rp904.4 billion. In his remarks delivered at the inauguration of the dam, President Jokowi expressed hope that the Tukul Dam could become an important infrastructure to strengthen food and water security in the surrounding area, as well as provide benefits to local communities. (source Ministry of Public Works and Public Housing/AIT/UN)