Gov't to Maintain Automotive Industry Revival
By : Nata Kesuma | Friday, April 16 2021 - 13:19 IWST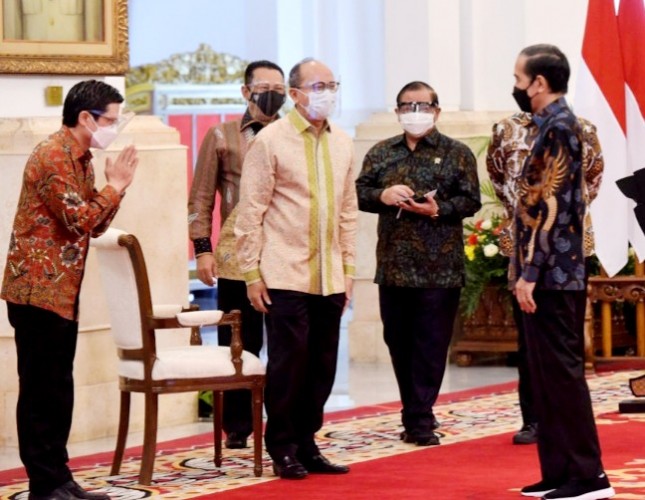 President Jokowi joins the opening of the 2021 Indonesia International Motor Show, from the State Palace, Jakarta, Thursday (15/4). (Photo by: PR/Agung)
INDUSTRY.co.id - The Government's policy to relax Government-borne luxury goods sales tax (PPnBM DTP) on automobiles, which has been put in place since March, has successfully boosted product sales and increased people's purchasing power in automotive sector.
Therefore, it must be maintained since it will bring multiplier effects to other sectors.
President Joko "Jokowi" Widodo on Thursday (15/4) said that the demand for automotive products skyrocketed to 190 percent.
"It indicates that the products are not in stock and the production soars, meaning that the automotive industry has revived.We must maintain the revival of automotive industry amid the COVID-19 pandemic which currently shows no sign of abating," he said during the opening of the 2021 Indonesia International Motor Show, from the State Palace, Jakarta.
Indonesia's manufacturing industry also starts to see a rebound as Indonesia's Manufacturing Purchasing Managers' Index (PMI) climbed to 53.2 which is an expansive phase. In addition, Bank Indonesia's Prompt Manufacturing Index is predicted to reach 55 percent at the second quarter.
President Jokowi affirmed that the figure is higher than that of Indonesia's PMI before the pandemic, which was recorded at 51 percent.
He went on to say that automotive industry is an engine that drives the national economy. Therefore, we must speed up the growth of automotive industry because it will affect many domestic businesses which support the industry's supply chain from upstream to downstream.
"Participation of MSMEs (Micro, Small, and Medium-sized Enterprises) in the industry's supply chain must be increased. We must also prioritize value added for domestic economy," he said adding that the revival of automotive industry must be coupled with the increase in local labor absorption that will eventually improve people's welfare.
On that occasion, the President has also encouraged Indonesia's automotive industry to recover from the pandemic, to absorb more labors, to contribute to stimulate the MSMEs, and to boost Indonesia's export in global market.
"The Government also expressed hope that production capacity in automotive industry is to be further increased through the utilization of local content. The industry should not only be focused in domestic market but also to enter global market," he said. According to the President, to attract more investment in automotive sector should become the priority.
To that end, the Government has issued the Job Creation Law.
"We have also established the Indonesia Investment Authority expected to provide ease and certainty to the investor in doing business in Indonesia," he stated.
Nevertheless, measures taken to recover the economy must be in line with measures to curb the pandemic. Therefore, the Government can protect the health of its people while at the same time stimulate the economy. (FID/UN) (RAS/MUR