President Jokowi: Gov't Focuses on Health, Economic Recovery
By : Nata Kesuma | Friday, April 16 2021 - 14:10 IWST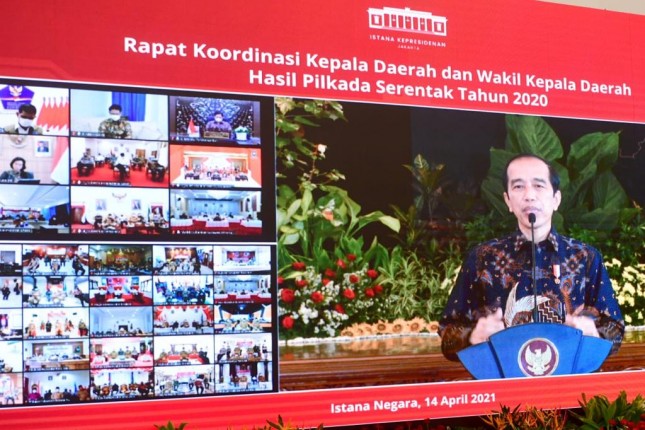 President Jokowi
INDUSTRY.co.id - At the moment, the Government is still focusing on handling the current health issues and speeding up economic recovery simultaneously, President Joko "Jokowi" Widodo has said.
Thus, the President urged regional heads to maintain the right balance in managing both sectors.
"The gas and brake should really be well-implemented since COVID-19 is not visible to the eyes. Do not put the economy first and ignore the spread of COVID-19, if this happens positive cases will increase and the economic growth will slow down," the President said when delivering his remarks at the 2021 Regional Heads Coordination Meeting virtually from the State Palace, Jakarta, Wednesday (14/4).
Therefore, preventing the spread of the virus must be a priority, while treating COVID-19 patients exposed to the virus must also be carried out consistently.
Regional governments were also reminded not to rush to open all economic sectors in their regions. They should open these sectors gradually and stay alert so that there is no spike in new cases.
"Last January, for instance, I don't have to name the country, they recorded a decrease in confirmed cases. Once they opened the economic sector, the cases soared high in March. Be careful with that. Don't rush to open existing sectors just because the cases have dropped," the President said. In January, Indonesia recorded 14 up to 15 thousand daily active cases.
However, the number of daily cases has been relatively under control, which stood at 4 to 6 thousand cases lately due to the enforcement of micro-scale public activity restrictions (PPKM Mikro) coupled with a mass vaccination program.
On that occasion, the regions were ordered to impose PPKM Mikro to prevent the transmission of coronavirus in their respective territory.
"Do isolate the smallest areas before active cases spread even wider. Thus, don't impose partial lockdown on a city or regency. If in one regency the cases only occur in one or two villages, then isolate the exposed village," he said.
In addition, the Head of State also called for full support for the mass vaccination program that is being implemented throughout Indonesia.
Through PPKM Mikro, mass vaccination policy, and enforcement of strict health protocols, health sector recovery can be quickly achieved.