Regional Gov't Must Enforce Stricter Policy on People's Mobility to Anticipate Mudik
By : Nata Kesuma | Tuesday, May 04 2021 - 19:30 IWST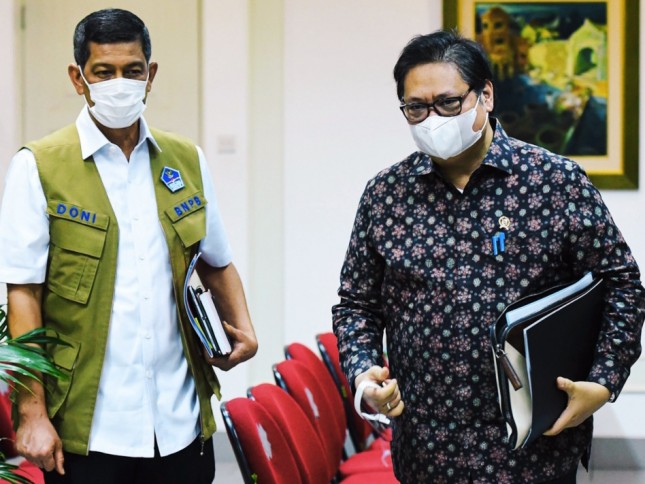 Chairperson of COVID-19 Handling and National Economic Recovery Committee Airlangga Hartarto (center) and Chairperson of COVID-19 National Working Committee Doni Monardo (left), in Jakarta (3/5). (Photo by: PR/ Agung)
INDUSTRY.co.id - Although the Government has issued the ban of mudik (annual exodus ahead of Eid al-Fitr), seven percent of respondents in a survey about people's interest to travel during this year's mudik, said that they will participate in mudik anyway. For that reason, the COVID-19 National Working Committee called for a stricter policy and prevention of people's mobility in regions.
"Some of them have already returned to their hometown before the holy fasting month of Ramadan. As the consequence, the number of active case and mortality rate in almost all provinces in Sumatra Island increased, while the recovery rate continues to decline," Chairperson of COVID-19 National Working Committee Doni Monardo said after joining a limited meeting on the handling of COVID-19, on Monday (3/5), in Jakarta.
He went on to say that government officials in Sumatra Island must immediately carry out evaluation and preventive measure to control people' mobility before it is too late.
The Spokesperson added that the Government's decision to ban mudik 2021 was made by taking into account various considerations, suggestions, and data collected during the past year.
"The President has also affirmed about the ban of mudik several times, thus all government officials must echo similar narration as the Central Government," he said while inviting the public to support the implementation of the policy to prevent significant increase in COVID-19 cases which usually occurs after long weekends.
According to him, those living in hometown must tell their families and relative not to return to the hometown during this year's mudik so they can help reducing the spread of COVID-19 and save the family and many people. It is because taking a polymerase chain reaction (PCR) test and confirmed negative for COVID-19 before traveling cannot guarantee their safety as they can contract the virus during the trip.
"You may have the virus and become a carrier. Afterward, you will transmit the virus to your family in hometown," he firmly said.
Doni told the public that there are areas without healthcare facility where COVID-19 patients cannot be treated immediately that lead to their deaths. For that reason, the Government's commitment to ban mudik must be supported by the public. In addition, regional governments must prepare quarantine facilities including in the neighboring units in case they have failed to prevent the travelers entering their regions.
On that occasion, he confirmed that the trend in COVID-19 active cases in Indonesia is at 6.01 percent, while recovery rate is at 91.26 percent which is the highest figure so far.
He also emphasized the importance of balance between "gas and brake pedals" in handling the health and economic sectors. Regional heads, he added, must monitor and evaluate the development of COVID-19 cases in their respective regions.
"In case of a hike in active case and mortality rate, all leaders (governor, regent, mayor) supported by various elements in regional government must impose stricter policy on people's mobility and activities," he conclude.