Gov't Shortens COVID-19 Vaccination Procedure
By : Nata Kesuma | Tuesday, May 04 2021 - 20:35 IWST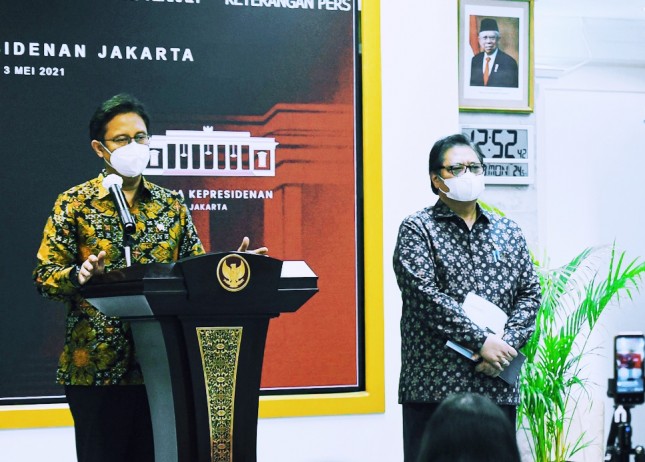 Minister of Health and Head of COVID-19 Handling and National Economic Recovery Committee Airlangga Hartarto (Photo: PR of Cabinet Secretary/Agung)
INDUSTRY.co.id - In a bid to speed up vaccination, the Government has announced that it has shortened vaccination procedure and pushed for a private vaccination scheme called Gotong Royong Vaccination.
The announcement was made by Minister of Health Budi G. Sadikin and Coordinating Minister for Economic Affairs Airlangga Hartarto who also helms the COVID-19 Handling and National Economic Recovery Committee on Monday (03/05) in following a limited meeting on COVID-19 pandemic management led by President Joko "Jokowi" Widodo.
According to Budi, Ministry of Health has shortened vaccination procedure to two stages.
The process previously consisted of four stages, namely registration and data verification, health screening, vaccine injection, and observation.
"This morning the President inspected (the vaccination) at Thamrin City and Grand Indonesia malls. The process (involved) four tables, but now it involves two tables and the waiting time is up to 15 minutes. Therefore, we can speed up vaccination process," he said.
Budi added that his Ministry also continues to push to speed up vaccination program that has injected 20 million doses as of April.
"As long as there are only few mutations categorized as variants of concern (mutations from India, South Africa, and England), it is the right time for us to get vaccinated immediately to protect ourselves and our family. Therefore, this March please push the vaccination (program) despite the fasting month and Eid because it has been allowed," he said.
Budi also pointed out that in order to increase vaccine supplies for vaccination acceleration, the Government will procure COVID-19 vaccines from multilateral partnership COVAX Facility from GAVI.
"This (April), we received 3.8 million (doses of) AstraZeneca vaccine from GAVI for free. There will be 1.8 million more (doses of) AstraZeneca vaccine for free, so the total will be 5.6 million," he stated, adding that Sinovac-manufactured vaccine raw material has arrived in Indonesia and state-owned pharmaceutical company Bio Farma will produce approximately 18 million vaccines this month.
Furthermore, Budi stated that it took around two months to inject 10 million doses when the vaccination program was first launched, but now it takes only one month to inject the same number of doses.
"We started in January and reached 10 million doses on 26 March so it took almost two months. Now, (it takes) one month. Despite every limitation, we can still inject 10 million doses or approximately 12.5 million people for their first jab," he remarked.
To speed up vaccination for achieving herd immunity, the Government also pushes for Gotong Royong Vaccination that is to be carried out based on risk zonation, according to Airlangga.
"Gotong Royong Vaccination and the priorities based on priority zonation have been reported. The priorities are also based on the companies that have registered to the Indonesian Chamber of Commerce and Industry, and certainly based on the type of industry. Labor-intensive (industries) are prioritized," he said.
Airlangga added that workers who have limited or permanent stay permits can also participate in the private vaccination scheme and the vaccines that will be used for this scheme include Sinopharm and Cansino vaccines.
"There are 7.5 million (doses of) Sinopharm (vaccine), which have been bound and targeted for July. The option includes 7.5 million. And there are five million (doses of) CanSino (vaccine) that are still on process. Ministry of Health will issue Regulation of Minister of Health on the price of Gotong Royong Vaccination," Airlangga remarked.