President Jokowi Encourages Technology, Science Development
By : Nata Kesuma | Wednesday, May 05 2021 - 22:25 IWST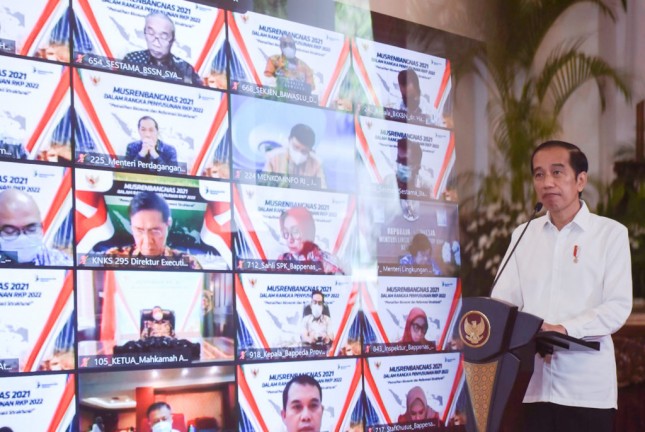 President Jokowi at the opening of the National Development Planning Conference (Musrenbangnas), Tuesday (4/5), at the State Palace, Jakarta. (Photo: Cabinet Secretariat/Agung)
INDUSTRY.co.id - President Joko "Jokowi" Widodo has reminded his Cabinet to always prioritize work speed, accuracy and efficiency in order to compete amidst the increasingly fierce world competition, while also consider the development of science and technology.
During the National Development Planning Conference (Musrenbangnas) on Tuesday (4/5), at the State Palace, Jakarta, President Jokowi said that Indonesia must also be able to become part of technology producer and get the maximum benefit from technological developments.
"In the very fast development of technology including the initiation of 5G digital connectivity, we should not only be users, but we also must be able to produce smart digital specialists who are competitive and produce smart digitalpreneurs who will develop entrepreneurship and create jobs in the country," he said.
Furthermore, the President asked his Cabinet to anticipate technological developments that have an impact on various sectors. He pointed out that technology companies which highly depend on innovation and technology are growing rapidly.
He cited an example of financial industry players who have begun to shift to companies that rely on technology and innovation. Many fintechs are able to operate their businesses very efficiently.
"We also have to anticipate technology in the health sector. Healthtech will be growing up rapidly. They will start practicing remote medical examinations or consultations by using artificial intelligence (AI) for diagnosis, for the treatment, for the prescription, even to perform remote surgery. Soon this can be done anywhere," he explained.
Likewise in the education sector, the current pandemic has also accelerated the application of edutech where distance learning is a necessity. "Online-based education services are appearing everywhere, access to learning can be obtained from various sources. Teachers and schools are now serve as educational facilitators to facilitate independent learning from their students," President Jokowi said, adding that the Government should plan the rapid development of science and technology.
"It must be responsive to disruptions that make the world change very rapidly, it must be responsive to unexpected challenges and opportunities that arise quickly, must be responsive to developments in science and technology," he said.
In terms of budgeting, the President emphasized that the technology spending must provide clear benefits to the public. "Technology spending must be treated as investment spending. The benefits must be clear, especially for the public, for the community and for the state," he added.
Moreover, President Jokowi also requested that this expenditure be able to contribute to the development of technology in the country. "The efficiency and the return on investment must be calculated for the development of technology in the country," he said.