Head of COVID-19 Task Force Urges All Parties to Support Mudik Ban
By : Nata Kesuma | Friday, May 07 2021 - 07:05 IWST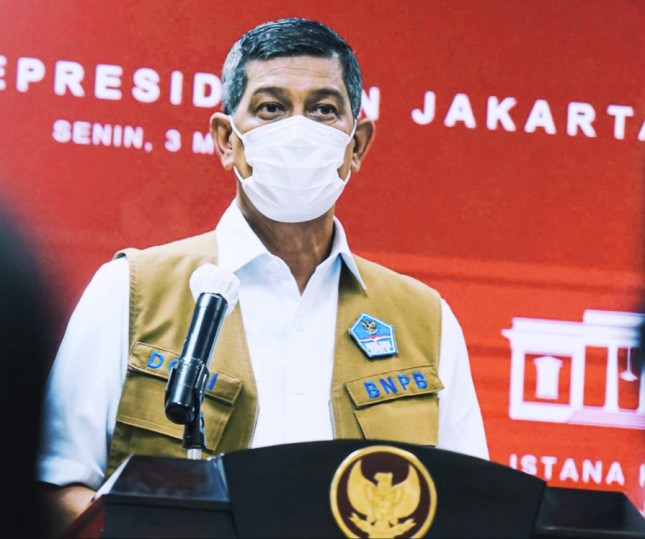 Head of the COVID-19 Task Force Doni Monardo. (Photo by: Cabinet Secretariat PR Documentation)
INDUSTRY.co.id - Head of the COVID-19 Task Force Doni Monardo has stated the need for all components of the nation to support mudik (annual exodus) ban policy.
"All parties, those at the central, regional levels, as well as those at the village and district levels, let's work hard to remind our people, do not go on a mudik, do not go on a mudik, do not go on a mudik," Doni said virtually in Forum Merdeka Barat 9 discussion, Wednesday (05/05).
Based on a survey, after the Government announced the mudik ban 7 percent or 18.9 million people still decided to go on a mudik. For this reason, Doni asked all elements in the regions to disseminate information at any time on the mudik ban policy.
"Our duty is to reduce this number as small as possible. It is better for us to be tired today, to be called fussy, rather than to see rows of COVID-19 victims because there are no other options," he said.
The people were also asked to refrain from mudik which potentially will increase the COVID-19 transmission in the regions. "Let's practice restraint," he said.
Head of the Task Force also stated that health and medical service facilities in a number of regions are inadequate so that they could exacerbate the risk for those exposed to COVID-19. "In every region, it is not certain that it will have adequate hospitals, doctors who will treat them, as a result it can be fatal for those exposed to COVID-19, it can lead to death and many regions have experienced similar cases in the last year," he said.
Thus, the mudik ban policy is a right and wise step to prevent an increase in the rate of COVID-19 transmission in the community.
"Reflecting on our journey in facing COVID-19 for more than a year, every long holiday will definitely be followed by an increase in active cases and will also be followed by an increase in the death rate," he explained.
The rate of increase is in the range of 46-75 percent for the mortality rate, while the increase in the number of active cases is at 70-119 percent.
In addition, this increase resulted in an increase in the number of patients in the hospital. The occupancy rate of the care rooms, Intensive Care Units (ICU), and isolation rooms are more than 80 percent. "In fact, in the period of January, in some provinces, they have reached more than 100 percent. So patients have to be transferred outside the province," he said.
Doni added that this resulted in a very high daily mortality rate, namely around 250 deaths. Health workers including doctors and nurses who treat the patients are no exception to COVID-19 transmission.
Therefore, he emphasized that the mudik ban is a very strategic choice and must be followed by all parties. "We all have to follow this decision. This is a state political decision, the Head of State is Mr. President Jokowi. There should not be a single government official with a different narrative [regarding the mudik ban]," he said.
Provisions on the mudik ban are regulated in the COVID-19 Task Force Circular Number 13 of 2021 on Eid al-Fitr 1442 Hijri Mudik Ban and Efforts to Control the Spread of Corona Virus Disease 2019 (COVID-19) During the Holy Month of Ramadan 1442 Hijri. The ban will take effect from 6 to 17 May 2021.