Passenger Movement During Mudik Ban Decreases, Minister Says
By : Nata Kesuma | Tuesday, May 11 2021 - 16:13 IWST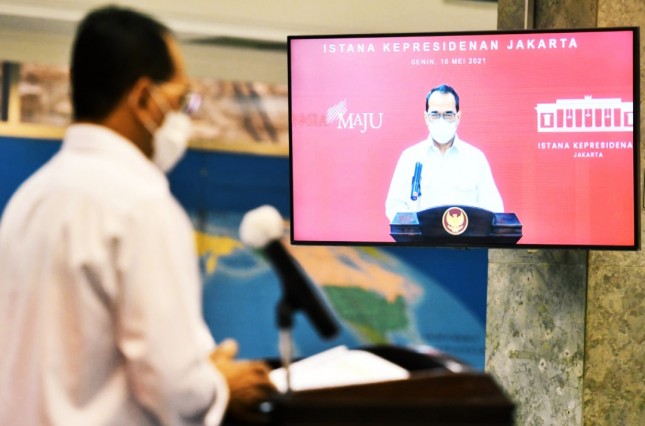 Minister of Transportation Budi Karya Sumadi (10/05/2021). (Photo by: PR of Cabinet Secretariat/Rahmat)
INDUSTRY.co.id - Minister of Transportation Budi Karya Sumadi has expressed appreciation to the public for their participation to support the Government's homecoming (Eid mudik) ban policy during from 6 to 17 May 2021.
Based on evaluation, according to Budi, there has been a significant downward trend of passenger movements on air, sea, land, and railways.
"Passenger movement on air has decreased up to 93 percent, on sea and railways has decreased up to 90 percent, and on land has decreased 40 percent," Budi said Monday (10/05) after a limited meeting lead by President Joko "Jokowi" Widodo in Jakarta.
However, according to Minister, there was a 20-30 percent increase in the number of passengers during the period before the ban, from 22 April to 5 May 2021.
Budi also expressed appreciation to all parties, especially the Indonesian National Defense Force (TNI), the Indonesian National Police, and regional governments, who have greatly contributed to carry out restrictions for travelers at various points.
Budi also pointed out that the travel restrictions during this year's mudik ban do not apply to freight or logistic movements. Nonetheless, Minister underscored that the Government will anticipate the possibility of the spike of traveler's number two days and one day ahead of Eid Day.
He also continued to call on the public not take part in this year's mudik in order to protect families and relatives from COVID-19. In addition, according to the Minister, the Government is also currently concentrating to manage the return of Indonesian migrant workers, especially from Malaysia, through the arrival points in the provinces of Riau Islands, West Kalimantan, and North Kalimantan.
Based on the result of the limited meeting, Budi said that the Government has decided to ban the use of charter flights during the mudik ban period; so, if there are workers who want to return Indonesia, they are advised to postpone the trip.
Budi further said that in order to intensify the implementation of the mudik ban policy, the Government has prepared a number of measures to anticipate the peak of return traffic after mudik predicted to occur from two days after Eid Day.
"Based on our report, it is estimated that there will be 22 percent of travelers or approximately 3.6 million travelers who will return on Sunday (two days after Eid Day). It is a large number indeed," he remarked.