Chief Economic Minister: Economic Recovery Continues in Q2
By : Nata Kesuma | Tuesday, May 18 2021 - 20:01 IWST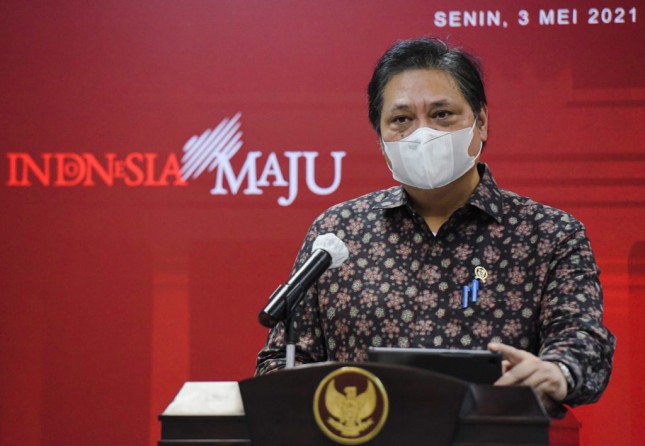 Coordinating Minister for Economic Affairs Airlangga Hartarto
INDUSTRY.co.id - Indonesia's national economy will continue to recover and show an upward trend in the second quarter of 2021, according to Coordinating Minister for Economic Affairs Airlangga Hartarto.
"Our economy grows like a V-curve. We hope that the economic growth in the second quarter will be positive and it has been forecasted to reach seven percent," he said in his press statement online, Saturday (15/05).
According to Airlangga, the recovery is reflected by various indicators, including manufacturing PMI and consumer confidence index.
"The PMI has reached 54.6. Consumer confidence index has also come close to the normal index at around 90 moving toward 100," he said, adding that exports and imports have also begun to go back to normal, including Government spending that is on the positive lane.
"Several sectors, including information and communications, health care services, agriculture, property, and other industries have moved to a positive direction and seen a quite significant increase with the Government-borne luxury goods sales tax and value-added tax," he said.
Airlangga added that Gross Fixed Capital Formation (GFCF) in the first quarter of 2021 contracted only negative 0.23 percent.
"We noticed that our GFCF has come close to zero or negative 0.23 (percent), the export is 6.74 percent, which is even higher than before COVID-19. Likewise, capital goods and consumer goods import is at 5.27 (percent)," he said, adding that the spatial economic growth has also improved as the domestic economy improves.
The Minister further said that economic growth in Sumatra island has begun to move to a positive lane at negative 0.86 percent, the growth in Java island at negative 0.83 percent, and the growth in Kalimantan island at negative 2.23 percent.
Meanwhile, several parts of central and eastern Indonesia have had a positive growth, he added.
"(The economic growth in) Sulawesi island has reached positive 1.2 percent. In fact, Maluku and Papua islands have reached 8.97 (percent). It certainly was boosted by commodity prices, including palm oil, rubber, nickel, copper, and coal," Airlangga remarked.