PEN Budget Realization Reaches Rp172.35 Trillion as of 11 May 2021
By : Nata Kesuma | Wednesday, May 19 2021 - 15:00 IWST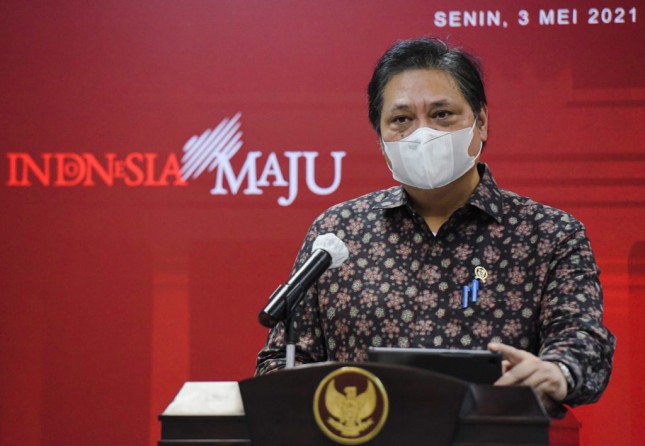 Coordinating Minister for Economic Affairs Airlangga Hartarto
INDUSTRY.co.id - Coordinating Minister for Economic Affairs Airlangga Hartarto as Head of the COVID-19 Handling and National Economic Recovery Working Committee Monday (17/5/2021) announced that the realization of the National Economic Recovery Program (PEN) until 11 May 2021 reached Rp172.35 trillion or 24 percent of total ceiling of Rp699.43 trillion.
According to Airlangga, this effective realization included the Health Program amounting to Rp24.9 trillion or 14.2 percent of the Health Program's ceiling, the Priority Program amounting to Rp21.8 trillion or Rp17.6 percent of the Priority Program's ceiling, MSME and Corporate Support Program amounting to Rp42.03 trillion or 21.7 percent of the program's ceiling, and the Business Incentive Program amounting to Rp26.83 trillion or 47.2 percent of the program's ceiling.
Airlangga also said that the realization of the Social Protection Program reached Rp56.79 trillion or 37.8 percent of total ceiling of Rp150.28 trillion, namely realization of the Family Hope Program (PKH) that reached 48.19 percent, Basic Food Card (Sembako Card) Program that reached 38.20 percent, Cash Social Assistance (BST) that reached 98.39 percent, and Direct Cash Assistance (BLT) of the Village Fund Program that reached 17.41 percent.
Furthermore, the Coordinating Minister said that economy in some regions has rebound, adding that, ten provinces have recorded positive growth, including Riau (0.41 percent), Papua (14.28 percent), Central Sulawesi (6.26 percent), Special Region of Yogyakarta (6.14 percent), North Sulawesi (1.87 percent), Southeast Sulawesi (6.14 percent), East Nusa Tenggara (0.12 percent), West Papua (1.47 percent), Bangka Belitung Islands (0.97 percent), and North Maluku (13.45 percent).
The growth, Airlangga added, is driven by a number of important sectors, including agricultural, procurement of electricity, water procurement, communication and information, financial services, and health services.
Airlangga further said that the homecoming (mudik) ban policy has also affected to boost community spending in agglomeration areas.
"According to central bank Bank Indonesia (BI), money circulation reached Rp154.5 trillion or increased 41.5 percent compared to that of last year. Especially in Greater Jakarta area, BI recorded that cash withdrawals increased 61 percent or Rp34.8 trillion," he remarked.