Rising Trends In The Adoption of Collaborative Automation
By : James McKew, Regional Director Asia-Pacific Universal Robots | Tuesday, June 01 2021 - 23:35 IWST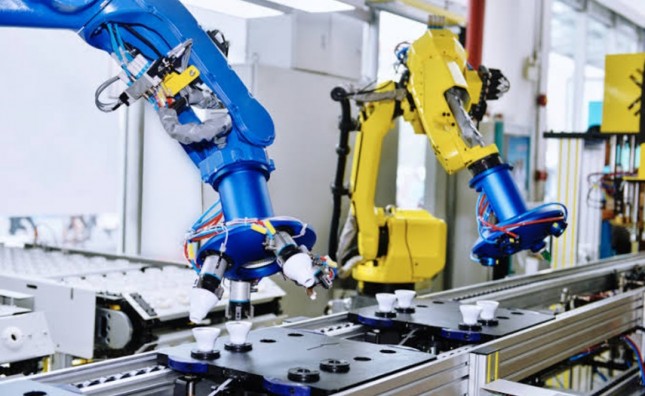 UR10 cobots in its HMLV manufacturing facility
INDUSTRY.co.id - More factories than ever before now rely on robots to help relieve human workers from tedious and dangerous tasks, ensure product quality with repetitive tasks, and improve overall productivity. In 2020, the International Federation of Robotics (IFR) estimated that 2.7 million industrial robots are currently deployed around the globe.
The IFR also reported that collaborative robots (cobots) have overtaken traditional robots in terms of growth, growing up to four times faster in 2019.
Leveraging high-mix, low volume (HMLV) production
In the past decade, the manufacturing sector has seen a considerable shift away from mass production towards high-mix/low-volume (HMLV) production batches. Universal Robots (UR) supports this trend towards customised manufacturing by providing manufacturers with versatile collaborative robots that are easy to program, making it easy to accommodate short production runs.
Cobots are versatile and flexible, making them ideally suited to HMLV manufacturing environments. UR cobots can be deployed on a wide variety of applications, including assembly, dispensing, finishing, machine tending, material handling, material removal, quality inspection, and welding.
The UR+ ecosystem builds on this flexibility by providing a range of software and hardware components from end-of-arm tooling to vision systems, inspection and palletising kits designed to provide manufacturers with all tools needed to quickly set up a specialised automation project. Additionally, following a risk assessment, cobots can be deployed safely next to human workers without the need for safety cages or fences, which further facilitates quick and easy deployments.
Hyundae Induction Hardening Heat Treatment (HIHHT) from South Korea deployed two UR10 cobots in its HMLV manufacturing facility. As a result, the production failure rate decreased from 0.03 percent to 0.01 percent and overall production efficiency increased by 31 percent. By automating repetitive processes, the company was able to hire two additional employees.
Filling the labour shortages gap
Driven by difficulties finding manual labour, automotive component manufacturer Craft and Technik Industries (CATI) in India deployed UR cobots for automatic inspection and CNC machine tending tasks.
As a result, efficiency at the SME has increased with production volume going up between 15 to 20 percent, with zero defects or customer rejections.
"We talk about unemployment all over the country but the truth with the SME sector is that we actually cannot find enough qualified labour. Hence, the best combination for us is incorporating robots in our manufacturing, alongside human workers. Smartly combining the number of machines and robots ensures that the payback period will be faster," said Prashant Shantaram Umbrani, CEO of CATI.
"The time has come for SMEs to automate – robots are no longer the prerogative of large-scale industries only."
Low barriers to automation adoption
Traditional robots are expensive to purchase and maintain, require extensive safety features including cages and fencing, and require experts for programming, maintenance, and repair. Each of these factors acts as a barrier to automation adoption, particularly for SMEs. Whereas UR cobots lower these barriers, making it easier than ever to justify the cost of investing in industrial automation.
Cobots are a fraction of the cost of traditional robots and typically provide return on investment (ROI) as short as twelve months. Universal Robots has further lowered the financial burden through UR Financial Services, enabling manufacturers to instantly reap the benefits of cobot automation without worrying about cash flow and seasonal fluctuations.
This means that companies of any size and budget can get started with cobots quickly and without having to make capital investments in equipment.
Cobots are designed with ease of use in mind. This means that the vast majority of operators, having completed a simple online training course, are able to program UR cobots quickly and easily. Cobots eliminate the costs associated with having to get robot experts to reprogram the cobots, while providing the opportunity to upskill existing workers for high-value cobot monitoring and programming tasks.
In factories where space is a premium, cobots offer a way to implement automation without having to redesign production lines. This is because cobots have a small footprint and can be moved easily to a different part of the factory shopfloor as production schedules change, such as mounting on a mobile platform or lifted by a dolly. Cobots are easy to add to a production line since they can be deployed close to human workers without the need for space-sapping safety cages and fencing (upon risk assessment).
The last two decades have been marked by significant advancements in robotic automation. As the industry moves towards smart factories, how robots are used in manufacturing is changing, such as the emergence of cobots and the growing use of artificial intelligence (AI) in industrial settings.
Now, manufacturers of all sizes are adopting robotic automation, from automotive, electronics, pharmaceutical, medical, consumer products, and even farms.