Celebrate the 72nd anniversary of RI, PGN Renovates 45 Veterans House in Lampung
By : Hariyanto And Aldo Bella Putra | Friday, August 18 2017 - 16:00 IWST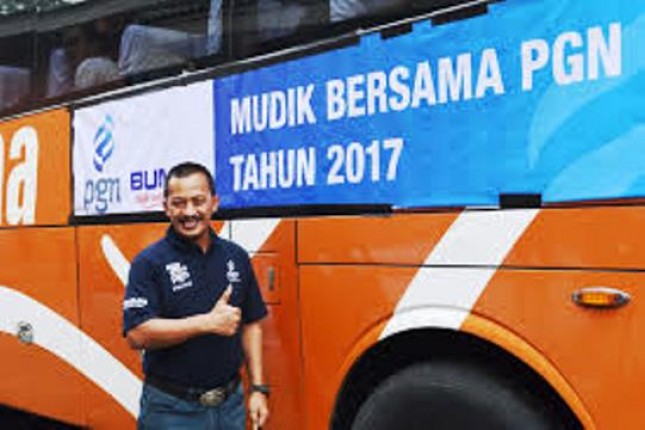 5166
INDUSTRY.co.id - Jakarta - PT Perusahaan Gas Negara (Persero) Tbk (PGN) renovated 45 veteran homes in Lampung province with a budget of Rp1.15 billion in commemoration of the Indonesian Independence Day.
PGN's president director Joko Triananda Hasjim said in Jakarta on Thursday (17/8/2017) that the renovation or home surgery is a series of BUMN programs for the State in Lampung Province.
In Lampung's home surgery program, PGN is working with PTPN 7, to renovate 45 veteran's houses.
"We are very grateful that PGN will be able to run the mandate in a series of social programs to commemorate the 72nd Anniversary of Independence and the Ministry of State-Owned Enterprise (BUMN) has assigned PGN and PTPN 7 to renovate 45 veterans' houses," he said in Bandar Lampung.
According to him, home renovation is done from the construction of the foundation, roof repairs, ceiling installation, ceramic tile, home wall plaster, bathroom renovation and others depending on the repair needs of each veteran's own house.
Renovation of 45 veterans house units spread in Bandar Lampung as many as 10 units, Metro City 10 units, East Lampung 12 units, Central Lampung 8 units, and 5 units of South Lampung.
According Jobi, in addition to the form of concern for the veterans, surgical house also aims to improve the homes of the freedom fighters to be habitable and comfortable.
"This is a realization of the commitment of the Ministry of BUMN and BUMN to give appreciation for the services of veteran struggle that has led Indonesia to independence and the Unitary State of the Republic of Indonesia," he said.
Currently, he added, the process of surgical house construction is still ongoing and is expected to be completed November 2017.
Surgical house is a program of concern PGN through BUMN programs Present for the State that will continue to be done.
Previously in 2016, PGN renovated about 50 veterans' homes located in Lombok and West Nusa Tenggara at a cost of Rp1.2 billion.
Meanwhile, in 2015, PGN renovated 47 veterans' houses in DKI Jakarta at a cost of Rp2.2 billion.
In the program BUMN Present for the State in Lampung Province, PGN conduct a series of activities one of the implementation of the program students know the archipelago (SMN).
In SMN's activities, PGN facilitates the exchange of students from Lampung to Banten and vice versa on July 19-28, 2017.
PGN was appointed as the Coordinator of the State-Owned Enterprise Program for the State in Lampung Province, which became one of the operating areas in distributing the energy of natural gas.
On the other hand, PGN also assigned the government to build a household gas network in Bandar Lampung as many as 10,321 connections.
In addition to Lampung, PGN also implemented a number of programs in Serang, Banten to build the Cibereum Kali Bridge, revitalize Situ Tasikardi, and establish a Village Owned Enterprise (BUMDes) Sabar Subur.
For these three activities, PGN disbursed Rp3.42 billion.
These three activities are a proof of PGN's consistency as state-owned natural gas encourages rural economic activity.