Micro Waqf Bank Aims to Support Local Economic Development: Vice President
By : Nata Kesuma | Thursday, June 10 2021 - 15:35 IWST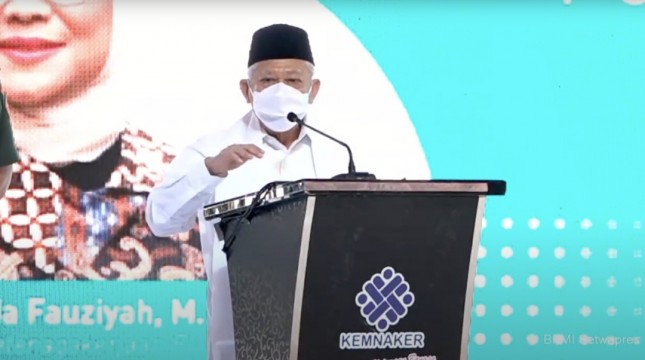 Vice President Ma'ruf Amin
INDUSTRY.co.id - Vice President Ma'ruf Amin on Tuesday (08/06) inaugurated Micro Waqf Bank (BWM) at Cipasung Islamic Boarding School, Tasikmalaya, West Java.
The Micro Waqf Bank is established by the Government and the Financial Services Authority (OJK) to support the development of sharia micro-enterprises and empower surrounding communities.
"[I hope that] the Micro Waqf Bank at the Cipasung Islamic Boarding School can immediately operate to support sharia economic and financial ecosystem in the Islamic boarding school and support socio-economic empowerment for the surrounding communities," the Vice President said.
Islamic boarding schools across the nation, he added, have great potential and play a strategic role in education and da'wah as well as in supporting economic empowerment of the surrounding communities.
"As a sharia microfinance institution registered and supervised by the OJK, Micro Waqf Bank is established to provide access to capital for low-income communities that do not yet have access to formal financial institutions and to play a role in empowering and assisting surrounding communities of Islamic boarding schools," the Vice President said.
The Vice President expressed hope that Micro Waqf Bank will be able to significantly support poverty alleviation measures taken by the Government.
"Efforts to develop digitalization in service process, product marketing, and supervision are expected to accelerate the establishment of professional and accountable Micro Waqf Banks to produce successful and independent entrepreneurs who have access to the market for their various products," the Vice President concluded.
In the meantime, Chairperson of Board of Commissioners of the OJK Wimboh Santoso said that the Micro Waqf Bank program is a platform for Islamic boarding schools to optimize their role in the economy.
"We hope that the Micro Waqf Bank at Cipasung Islamic Boarding School will provide the maximum benefits to the surrounding community and can contribute to regional economic growth," Wimboh said.
The establishment of Micro Waqf Banks, he added, is supported by the OJK and the financial services industry, following the success of the existing Government's financing programs for micro-enterprises, including the ultra-micro financing (UMi), the Prosperous Family Economic Development (Mekaar), the subsidized micro credit (KUR), and subsidized micro credit for fishermen.
For the record, as of June 2021, 61 Micro Waqf Banks have been established in various regions with more than 45,000 customers and a total financing of Rp. 67.4 billion.