10 Million Sinovac COVID-19 Vaccine Bulks Arrive in Indonesia
By : Nata Kesuma | Monday, June 21 2021 - 21:40 IWST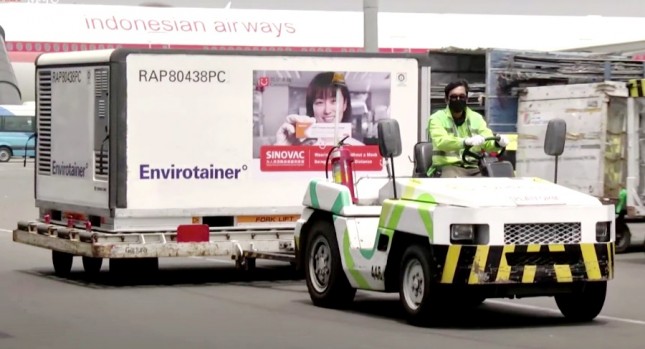 vaccine arrives at Soekarno Hatta International Airport in Tangerang, Banten
INDUSTRY.co.id - As many as 10 million Sinovac-manufactured COVID-19 vaccines in the form of raw material or bulk Sunday (20/06) arrived at Soekarno-Hatta airport in Tangerang city, Banten province.
"Thank God, today we obtained another batch of 10 million vaccine bulks to be produced by Bio Farma (state-owned pharmaceutical company) into COVID-19 vaccines," General Secretary of Ministry of Health Oscar Primadi told the press while welcoming the arrival of the vaccines.
With the arrival of this vaccine batch, Oscar said, the total number of vaccines Indonesia has received is 104,728,400 doses, which consist of 94.5 million doses of Sinovac-manufactured vaccine, 8,228,400 doses of Astra-Zeneca vaccine, and two million doses of Sinopharm vaccine.
Oscar stressed that the Government continues to secure vaccine needs for COVID-19 vaccination that the Government is currently carrying out since to achieve herd immunity, the Government has aimed to vaccinate approximately 70 percent of the country's total population.
"The Government is always present in securing approximately 426.8 million doses of COVID-19 vaccine. The measures we take to obtain supplies are in the form of bilateral approach, multilateral approach, and exploration of domestic products," he said.
Oscar also underscored that the Government only provides vaccines that have been proven safe and have high quality, with three vaccines that are currently used, namely those manufactured by Sinovac, AstraZeneca, and Sinopharm, are listed on the WHO's emergency use listing.
"Vaccines provided or prepared by Ministry of Health are vaccines that have been tested and fulfilled the aspects of security, efficacy, and quality. It is indicated with the issuance of emergency use authorization for the vaccine products," he said, adding that the vaccine bulks that have arrived in Indonesia will be distributed across the country after being processed into vaccines by Bio Farma.
Oscar also expressed optimism that the addition of these vaccine bulks will support the Government's measure to speed up the ongoing COVID-19 vaccination.
"With this arrival, we continue to distribute and carry out vaccination programs well. As of today, we have taken measures to speed up and strengthen the vaccination," he said.
On that occasion, Oscar reminded the public to remain disciplined in observing health protocols to curb COVID-19 transmission rate as the Government accelerates vaccination.
"We urge everyone to continue observing health protocols by avoiding crowds, maintaining a safe distance, and wearing a face mask. May God Almighty protect us all always and the pandemic is always under our control," he remarked.