Cabinet Secretariat Holds Seminar on Local Government Legislation with S. Korean MOLEG
By : Nata Kesuma | Thursday, July 01 2021 - 14:10 IWST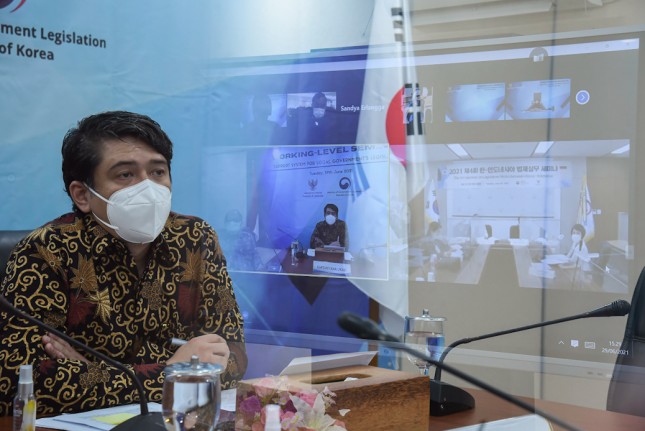 A Working-level Seminar between Cabinet Secretariat and Ministry of Government Legislation of the Republic of Korea, held in a hybrid format on Tuesday (29/6. (Photo by: Cabinet Secretariat PR/Agung)
INDUSTRY.co.id - Cabinet Secretariat of the Republic of Indonesia and Ministry of Government Legislation (MOLEG) of the Republic of Korea on Tuesday (29/6) held a Working-level Seminar adopting a theme "Support System for Local Government Legislation".
The seminar, which was held in a hybrid format, was the fourth event out of a total of six events planned to be organized by Office of the Deputy Cabinet Secretary for Political, Legal, and Security Affairs.
The seminar discussed legislative assistance given to local governments in a process to draw up local regulations.
Director of Local Statutes Legislation Support Division MOLEG, Jung Se-hee, said that just like Indonesia, Constitution of the Republic of Korea also recognized local autonomous system including autonomous legislative power to stipulate local regulations.
"Although having autonomous power, local governments in South Korea must be controlled and administered by the State. Thus, local governments cannot stipulate and amend a local regulation without approval from the Central Government," he explained.
He added that the MOLEG plays a role in supporting local government to draw up regulation through providing local government suggestions, considerations, and opinions based on their legal expertise.
Since MOLEG is a legislation institution, not a supervisory institution, local government may or may not accept MOLEG's suggestions. According to the Director, MOLEG also gives trainings and provide consultation on the process to draw up, interpret, and improve local regulation to local governments in a bid to improve their legislative performance and quality of their local regulation.
In the meantime, Assistant to the Deputy Cabinet Secretary for Domestic Governance, Kardwiyana Ukar, acknowledged the similarities between structure and system of local government in Indonesia and in South Korea.
"There are indeed some similarities between the structure and system of local government in Indonesia and in South Korea, but there are also differences. This will become a lesson to learn for all of us. We can learn from that facts" he said.