President Jokowi Tells Regional Heads to Provide Self-Isolation Centers, Emergency Hospitals
By : Nata Kesuma | Thursday, July 22 2021 - 14:30 IWST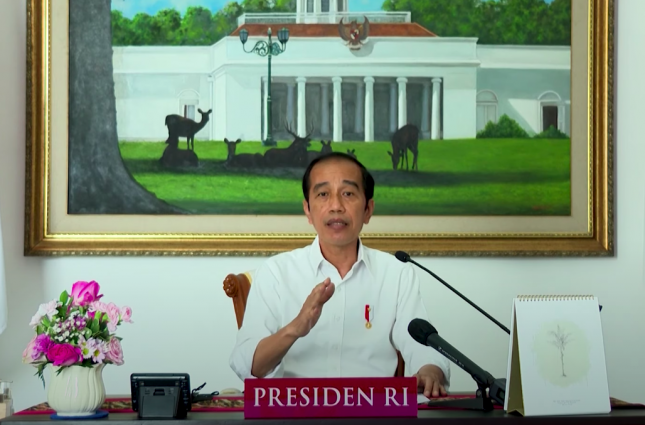 President Joko "Jokowi" Widodo
INDUSTRY.co.id - President Joko "Jokowi" Widodo has urged regional governments to prepare self-isolation centers in densely populated areas for asymptomatic and mild symptomatic COVID-19 patients.
"Do prepare more isolation houses for patients with mild or asymptomatic symptoms. If possible, provide isolation facilities down to the sub-district or village levels. At least, there should be isolation centers at the district level, especially in densely populated cities. From the field inspection, I found that a 3-by-3 meter house inhabited by a family of four. The transmission rate will remain high if there are no isolation centers at the sub-district or district levels," said the President in his directives to regional heads through a video conference from Bogor Presidential Palace, West Java, Monday (19/7).
The President also ordered regional heads to prepare regional hospitals, including reserve hospitals and emergency hospitals as an anticipatory measure if several hospitals are in full capacity.
"At least we have a plan if many hospitals are fully occupied. Don't start preparing when they [hospitals] are full already. It will be too late," he said.
On that occasion, the President also ordered regional heads to regularly control the situations on the ground, especially when it comes to the availability of medicines and medical oxygen supply. In addition, regional heads are also urged to continually monitor bed occupancy rate (BOR) in every hospital to optimize efforts in COVID-19 treatment.
"I'm aware that in some areas, hospitals set 20 or 30 percent of their existing hospital bed capacity. Those figures can certainly be risen to 40 percent or as in Jakarta, it reached up to 50 percent of available beds dedicated to COVID-19 patients. Regional heads must be aware of the total bed capacity and how many beds should be provided to COVID-19 patients. Otherwise, the hospitals seem to have set a very high bed occupancy rate even though only 20 percent of available bed are used. Many hospitals did that," the President said.
Furthermore, the President also highlighted the issue of accelerating regional spending and social assistance, especially those related to micro, small and medium enterprise (MSME) assistance, social assistance funds, and Village Funds.
Based on the data the President received, the MSME budget for all regions stands at Rp13.3 trillion, while only Rp2.3 trillion has been disbursed.
"In fact, we really need it right now. People really need it. People are waiting. Therefore, I urge the spending to be used immediately. Social protection has a budget of, based on my note, Rp12.1 trillion. The realization only reached Rp2.3 trillion. That is not 20 percent of the total yet. People are waiting for this," he said.
The President also revealed that out of the total budget of Village Fund at Rp72 trillion, Rp28 trillion was allocated for Village Direct Cash Assistance (BLT). However, the realization is only Rp5.6 trillion or less than 25 percent that has been disbursed.
"I order for acceleration on everything. Once again, with the current conditions, the acceleration of the budget is eagerly awaited by the people," he remarked.