Cabinet Secretary: Eid al-Adha is Momentum to Strengthen Togetherness, Solidarity
By : Nata Kesuma | Thursday, July 22 2021 - 15:15 IWST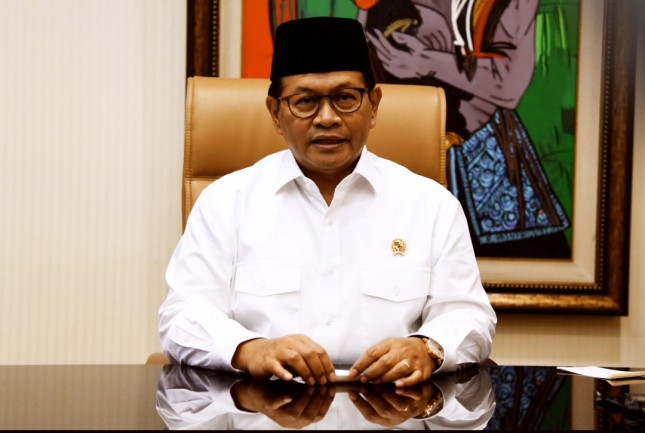 Cabinet Secretary Pramono Anung (Photo by: PR of Cabinet Secretariat)
INDUSTRY.co.id - This year's Eid al-Adha that falls amid the pandemic is a momentum to strengthen togetherness and solidarity, according to Cabinet Secretary Pramono Anung.
"This Eid al-Adha, we celebrate it differently from the previous one. We are facing a pandemic. It certainly is not easy for us to get through these phases. It requires acceptance, togetherness, solidarity, and sacrifice to get through it all," he said in his press statement aired on the YouTube channel of Cabinet Secretary, Tuesday (20/07).
Pramono expressed optimism that although Muslims must pray at home and visit relatives and colleagues online to curb COVID-19 transmission, they can experience this Eid al-Adha more solemnly, meaningfully, and purposefully.
"Many of us may not be able to celebrate Eid al-Adha by performing prayer in a designated place as we did in the previous years because of the Government's restriction. However, I am absolutely certain that this time we will have an Eid al-Adha that is more solemn, serene, engraved, meaningful, and beneficial for others," he said.
Pramono also expressed hope that by implementing pandemic resposne measures, the country will immediately be free from the pandemic.
"Happy Eid al-Adha. May the pandemic be over soon," he remarked.
Separately, President Joko "Jokowi" Widodo on Monday (19/07) in a live-streamed mass prayer on the eve of Eid al-Adha (takbir akbar) stated that Eid al-Adha is a momentum to strengthen solidarity to bounce back together to tackle the pandemic.
According to the President, Eid al-Adha sends a noble message and virtues of sacrifice and humanity that should be upheld by the nation and the country.
"This is a momentum to strengthen solidarity in the spirit of fellowship. Fellowship among Muslims, fellowship among nations, and fellowship among humankind will be able to strengthen our energy to accumulate power, optimism to bounce back together," he said.
Although this year's Eid al-Adha is celebrated simply and by observing health protocols, the Head of State expressed optimism that this simple Eid al-Adha will not reduce the solemnity in expressing gratefulness to God, adding that there are many lessons to be learned from Prophet Ibrahim such as sacrifice and the importance of faith, piety, and acceptance.
"Amid the pandemic, we need more willingness to sacrifice. To sacrifice personal interests and prioritize public interests," he said, while urging the people to making concrete and spiritual efforts optimally to tackle the pandemic by praying together from home.
"Let us make concrete efforts as well as spiritual efforts. We do it together by being disciplined to observe health protocols, to wear a facemask, to wash hands, to maintain a safe distance, to self-isolate for those who have symptoms and lend a hand to others," he said.
The President also appealed to the people to pray together for help, recovery for the ill, and strength for humanity fighters and expressed hope that the people of Indonesia are given forbearance and strength to overcome every tough situation and ordeal.
"I hope Allah bless and ease our efforts and measures to achieve victory over this COVID-19 pandemic," he remarked.