Gov't to Relax PPKM Darurat If COVID-19 Cases Continue to Decline
By : Nata Kesuma | Thursday, July 22 2021 - 16:00 IWST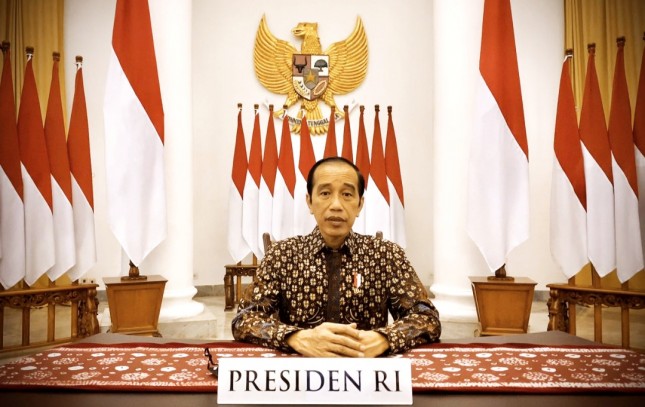 President Joko "Jokowi" Widodo
INDUSTRY.co.id - The Government has announced it will relax the emergency Public Activity Restrictions (PPKM darurat) on 26 July 2021 if the number of COVID-19 cases keeps going down.
"We always monitor, learn from the dynamics on the ground, and listen to the public aspirations affected by the implementation of the policy. Therefore, if the trend of cases continues to decline, the Government will gradually relax the restrictions starting 26 July 2021," he said, Tuesday (20/7).
At the first stage, he added, traditional markets selling basic necessities are allowed to be reopened until 8 p.m. with a 50-percent capacity, while markets that sell products other than basic necessities may open until 3 p.m. with a 50-percent capacity.
Street vendors, grocery stores, stalls that sell voucher balance for mobile phone, hair salons, laundry, automotive repair shops, car wash, and other small business may open until 9 p.m.
In addition, hawkers, food stalls, and the like which operate in open space may open until 9 p.m. Eating time for each customer will be limited to 30 minutes.
All businesses must also comply with strict health protocols and technical regulations that will be set by regional governments, the President added.
"Public activities on essential and critical sectors, including the government sector, private sector, and travel requirements will be announced later," he added.
On that occasion, President Jokowi also reminded that PPKM darurat that started to be implemented since 3 July was a hard and inevitable decision that the Government must make.
"We implement the policy to lower the number of COVID-19 infection cases and the number of patients that need treatment at hospitals. Thus, the hospitals will not collapse due overcapacity and it will not hamper health care services to patients with chronic diseases besides COVID-19 and put their lives on risks," he said.
The Head of State went on to say that after the PPKM darurat is implemented, the number of daily positive cases and bed occupancy rate at hospitals has declined.
He also called on everyone to join hands and cooperate to comply with the regulations on PPKM darurat to lower COVID-19 cases and burdens of the hospitals.
"We must improve discipline in adhering to the health protocols, encouraging people showing symptoms to do self-isolation, and providing treatment to them since the early stage," he said, adding that the Government provides packages of prescription drugs for patients in self-isolation.
The Government, he added, will also continue to provide two million of free prescription drugs packages for asymptomatic patients and patients with mild symptoms.
The Government also intensifies social protection programs to ease the impacts of PPKM darurat to the people's economy, he added.
"The Government has allocated an additional budget of Rp55.21 trillion for social protection programs such as the Social-cash Assistance, Cash Transfer Assistance for Villages, the Aspiring Family Program (PKH), staple food package, internet data assistance, and electricity subsidy," he said.
Furthermore, the Government also provides incentives to one million micro businesses in which each beneficiary receives Rp1.2 million of cash.
"I have ordered my ministers to immediately disburse the social assistance to those eligible for the assistance," he said.
President Jokowi called on everyone to come together to tackle COVID-19 because with cooperation, Indonesia will be able to free from COVID-19 and public social and economic activities can be restored just like before.