Home Minister Issues Instruction on Level 4 Community Activity Restrictions in Java, Bali
By : Nata Kesuma | Friday, July 23 2021 - 15:12 IWST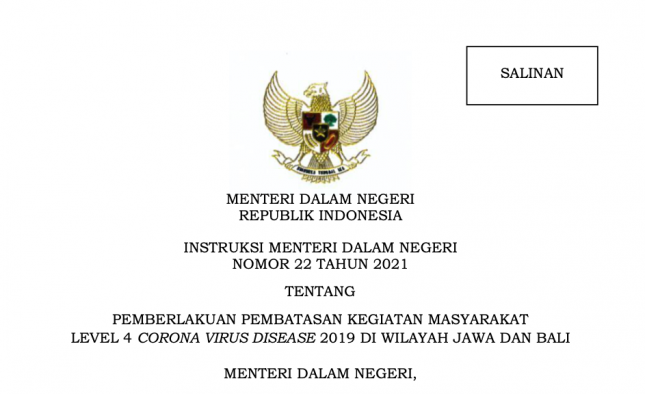 Ministerial Instruction Number 22 of 2021 on Level 4 Community Activity Restrictions in the islands of Java and Bali
INDUSTRY.co.id - Minister of Home Affairs Tito Karnavian on 20 July 2021 signed Ministerial Instruction Number 22 of 2021 on Level 4 Community Activity Restrictions in the islands of Java and Bali.
"We have issued Instruction Number 22 of 2021. The instruction is effective from 21 to 25 July 2021. After that, there will be evaluation," the Minister said in a live-streamed press conference, Wednesday (21/7).
Essentially, the provisions stated in the instruction are same as those of previous regulations, the Minister said.
In the newly-issued instruction, the Minister underlined measures to intensify 3T (testing, tracing, treatment) efforts, adding that testing needs to be increased according to the weekly positivity rate.
On a condition that the weekly positivity rate is <5 percent, the number of tests per 1,000 population per week is one; if >5 percent – ​​<15 percent, the number of tests is five; if >15 percent – ​​<25 percent, the number of tests is 10; and if >25 percent, the number of tests is 15.
In the meantime, the testing process needs to be continuously improved with a target positivity rate of <10%. Those with symptoms as well as close contacts also need to be tested.
The target of people being tested per day for each regency/city follows the table and targets set in the instruction, as referred to in point j of the seventh dictum.
"This instruction contains detailed guidance including on testing, please follow the instruction," the Minister said.
Meanwhile, on tracing, Tito said, it needs to be done until it reaches more than 15 close contacts per confirmation case.
Quarantine also needs to be carried out on those identified as close contacts. Those identified as close contacts should also be tested (entry-test) and are subjected to quarantine. If the test result comes back positive, isolation should be carried out.
Meanwhile, If the test result is negative, quarantine is mandatory. On the 5th day of the quarantine, the person is required to carry out an exit-test to see if the virus is detected after/during the incubation period. If the result is negative, the person is considered to have completed quarantine.
The Minister further said that treatment needs to be done comprehensively according to the severity of the symptoms. Only patients with moderate, severe, and critical symptoms need to be hospitalized. Isolation needs to be done strictly to prevent transmission.
This instruction was issued as a follow-up plan on the President's directive on Level 4 Community Activity Restrictions in the islands of Java and Bali.
The instruction also complements the criteria for the level of the pandemic situation based on assessment. This instruction aims to complete the Ministerial Instruction on Micro PPKM as well as to optimize the COVID-19 Handling Command Post at the village and urban village levels.
The instruction applies to regions in Java and Bali with level 3 and level 4 criteria.