President Reveals Three Major Economic Strategies at Workshop for 100 Indonesian Economists
By : Nata Kesuma | Friday, August 27 2021 - 07:00 IWST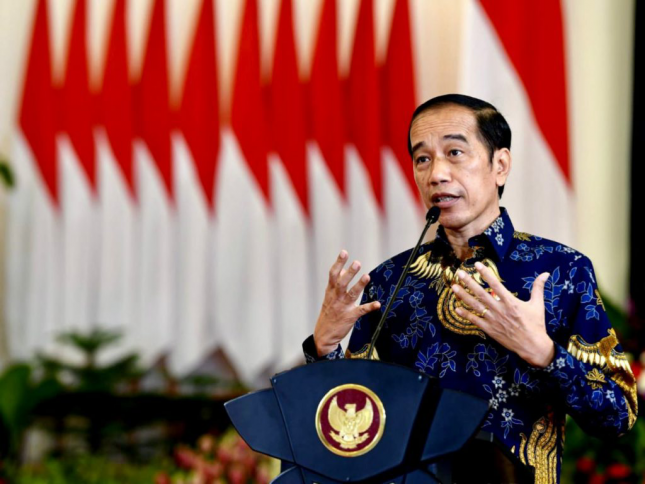 President Joko Widodo delivers remarks at the Opening of the Workshop for 100 Indonesian Economists at the State Palace, Jakarta, Thursday (26/08). (Photo by: Presidential Secretariat/Rusman)
INDUSTRY.co.id - President Joko "Jokowi" Widodo revealed three major economic strategies at the Opening of the Workshop for 100 Indonesian Economists at the State Palace, Jakarta, Thursday (26/08).
The three major strategies include industrial downstreaming, digitalizing micro, small and medium enterprises (MSMEs), as well as the green economy.
On industrial downstreaming, the President stated that the downstreaming has already started by stopping the export of raw materials for a number of commodities.
In the future, exports of other raw materials, such as nickel, bauxite, gold, copper, palm oil, and their derivatives, can be converted into exports of semi-finished goods or even better, exports of finished goods.
"I think our exports, our exports of iron and steel in the last half of this year have reached around US$10.5 billion," said the President.
On the digitization of MSMEs, currently, 15.5 million MSMEs have entered digital platforms and marketplaces. This transformation will continue to be encouraged so that more MSMEs will enter digital platforms.
"We have approximately 60 million MSMEs, all of which we will encourage to enter digital platforms, both regionally and nationally, so that they can also enter global platforms," ​​he added.
Furthermore, on the green economy, the Government plans to build a Green Industrial Park with green products as output. It will use new renewable energy or green energy as the source of energy.
The President expressed hope that in the future green products produced through the green economy will become a great strength for Indonesia.
"We all know that the future of green products is extremely promising and we have a great opportunity in this regard," he said.
On the occasion, the President also mentioned structural reforms through the existence of the Job Creation Law, which aims to build speed.
The Government has also created an Online Single Submission (OSS) electronic licensing system to provide convenience and speed in licensing for MSMEs. Through this OSS system, MSMEs can get Business Identification Numbers (NIB) anywhere and faster.
"This is so that all of our small businesses, micro-businesses can have NIB and that will make it easier for them to access banking," he added.
In addition, the Head of State also talked about Mekaar Program which is a loan program for micro-businesses and has been in existence since 2016. Currently, the Mekaar Program customers have reached 10.8 million customers, exceeding Grameen Bank customers of around 6 million customers.
"This is a rapid leap, we hope this will have an impact on increasing the level of micro-enterprises in the country," he said.