President Jokowi Inaugurates Way Sekampung Dam in Pringsewu
By : Nata Kesuma | Saturday, September 04 2021 - 19:28 IWST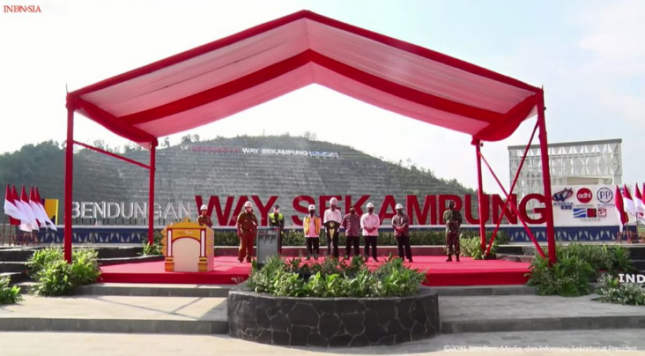 Inauguration of Way Sekampung Dam in Pringsewu regency, Lampung province, Thursday (02/09). (Source: Screenshot from the YouTube channel of Presidential Secretariat)
INDUSTRY.co.id - Continuing his work visit in Lampung province, President Joko "Jokowi" Widodo, Thursday (02/09) inaugurated Way Sekampung Dam in Pringsewu regency.
Constructed with a budget of Rp1.78 trillion, the multifunctional dam aims to irrigate agricultural fields, supply raw water, generate power, and control floods.
"Thank God, Way Sekampung Dam that has been built since 2016 is finished and ready to use today. This dam costed Rp1.78 trillion and has a capacity to contain 68 million cubic meters with 800 hectares of overflow area," the President said in his opening remarks.
According to the President, the dam can water 55,000 hectares of existing irrigation area and 17,500 more hectares of new agriculture field, provide up to 2.737 liters of raw water per second, and generate power of 5.4 megawatts.
"[It] can water 55,000 hectares of existing irrigation area and 17,500 hectares of new irrigation area, which means that there is an extensification; provide raw water up to 2.737 liters per second; and serve as a 5.4-megawatt power generator; and, as I have stated previously, serve as a flood control," he said.
Using a cascade system, the President added, Way Sekampung Dam is expected to be able to maintain the continuity of water availability for irrigation in the province, which is one of the national food estates, so it can increase agricultural production as well as farmers' wellbeing.
"Planting intensity can also be increased, from twice a year to thrice a year. It means that production must increase and in turn farmers' wellbeing also improves. This is our hope," he said, adding that this multifunctional dam can function optimally in supporting agricultural productivity if integrated with a well-organized irrigation system, from the primary, secondary, tertiary, to quaternary irrigation channels, so he ordered the local government to ensure the integration.
"I order Governor of Lampung, especially Regent of Pringsweu, and regents [whose regions are] related to this to truly pay attention. We hope this dam brings as many benefits as possible to the people of Pringsewu regency and its surrounding areas in order to support farmers' productivity, help the people who lack access to clean water, and reduce the people's loss due to floods," he said.
On that occasion, the President also expressed appreciation to all parties who have supported the construction of this dam so that it can be completed on time.
"Thank you to Minister of Public Works and Public Housing and his ranks as well as contractors who have finished this project on time," he remarked.
After delivering his opening remarks, the President span the water gate valve and signed an inscription as a mark of inauguration.