Gov't Prioritizes Social Security Program to Protect Non-ASN, Vulnerable Workers
By : Nata Kesuma | Monday, September 13 2021 - 16:00 IWST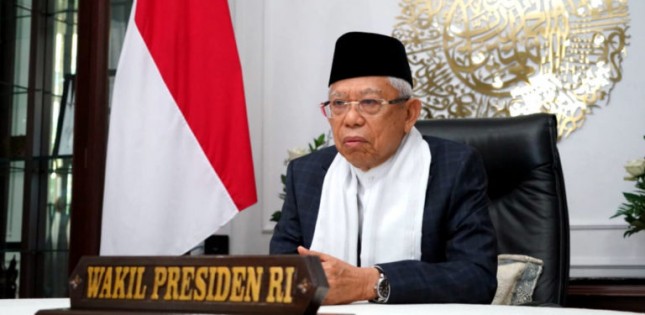 Vice President Ma'ruf Amin (Photo by: Vice Presidential Secretariat)
INDUSTRY.co.id - The Indonesian Government deemed it necessary to protect all workers in the country, including non-ASN (civil state apparatus) and vulnerable workers, through employment social security (Jamsostek) program.
"It is expected that the protection from the state through BPJS Ketenagakerjaan (Social Security Provider Body for Employment) will be more complete and can well protect all workers in Indonesia," Vice President Ma'ruf Amin said at the virtual awarding ceremony of Paritrana Award, Thursday (09/09).
The Vice President further said that the Government continues to take steps to maintain the sustainability of economic growth. One of these steps is to provide Wage Subsidy Assistance (BSU) to workers/laborers.
Each worker/laborer receives Rp500,000 for two months or Rp1 million per person. The assistance is aimed at 8.9 million workers in the country.
"This assistance is expected to ease the burden on workers amid the COVID-19 pandemic," he said.
On the occasion, the Vice President also said that as an effort to optimize the implementation of the social security program, the Government has issued several policies and regulations to support Jamsostek Semesta (universal social security) program.
"The first one is Presidential Instruction Number 2 of 2021 on Optimizing the Implementation of the Employment Social Security Program. This regulation instructs 24 ministries/institutions, governors, and regents/mayors according to their respective duties, functions, and authorities, to optimize the implementation of the Jamsostek Program," he said.
"In particular, increasing the protection of non-ASN workers by preparing budgets and regulations that support its implementation," added the Vice President.
In addition, the Government through Ministry of Home Affairs has also issued Ministerial Regulation Number 27 of 2021 on Guidelines for the Preparation of the 2022 Regional Budget which regulates social security budgeting for the protection of non-ASN workers, election organizers, vulnerable workers, as well as workers in Regional-Owned Enterprises throughout Indonesia.
"We hope that the issuance of the Presidential Instruction and the Ministerial Regulation can really encourage the overall protection of workers," he said.