Agriculture Minister Ordered to Improve Agricultural Productivity in West Papua
By : Nata Kesuma | Thursday, October 07 2021 - 20:05 IWST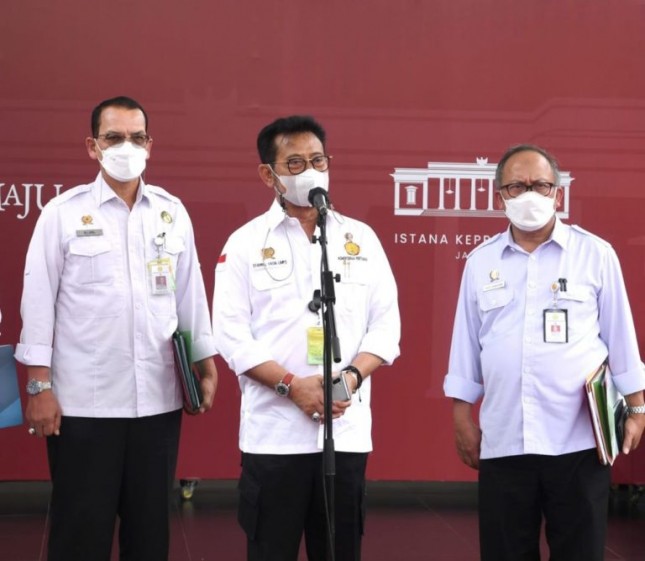 Minister of Agriculture Syahrul Yasin Limpo delivers a press statement after a Limited Cabinet Meeting on Food Ecosystem Improvement, Wednesday (06/10), at the Merdeka Palace, Jakarta. (Photo by: BPMI of Presidential Secretariat/Rusman)
INDUSTRY.co.id - President Joko "Jokowi" Widodo has ordered Minister of Agriculture Syahrul Yasin Limpo to improve productivity of agricultural sector in the eastern Indonesian province of West Papua.
"The President has ordered us to gradually make efforts in land-use planning for plantations in West Papua," the Minister said after attending a limited cabinet meeting on food ecosystem improvement at the Merdeka Palace, Wednesday (06/10).
West Papua has a potential land area of 7 million hectares that can be planted with food crops and horticulture commodities, and a land area of 11 thousand hectares for corn commodities. However, the land utilization of has only reached 33 percent.
"We have to maximize our corn commodities in the area. I have been given one month to complete (the task)," he said.
The Minister also said that in order to improve agricultural productivity in the province, Ministry of Agriculture has provided a training program to 800 participants of millennial farmers from the target of 2,000 millennial farmers in the region.
These millennial farmers will also be provided with several assistance needed, he added.
"This is a continuous program. After taking part in the training, millennial farmers will use the People's Business Credit (KUR), then we will provide them assistance up until the required stages," he said.
Previously, President Jokowi delivered directives to improve agricultural productivity in West Papua during his working visit to Sorong, the province's largest city, Monday (04/10).
"I have ordered Minister of Agriculture and Governor of West Papua to improve agricultural productivity in Sorong regency and in all regencies in West Papua province in order to boost production capacity and to change the cropping system from once a year to twice a year or thrice a year so that food demand in Papua can be met by Papua island itself," the President said.
In addition to encouraging the involvement of millennial farmers, the President also underscored that the Government will continue to support the use of agricultural technology and to provide access to business capital and irrigation in an bid to increase farmers' productivity.
"I have also seen the use of agricultural technology. Ministry of Agriculture will also provide access to business capital, as well as irrigation," he said.
The President expressed hope that these steps can boost agricultural productivity in the province.
"The most important thing is to plant corn because we still need more corn, both for food and for animal feed," he remarked.